Warranty on all pens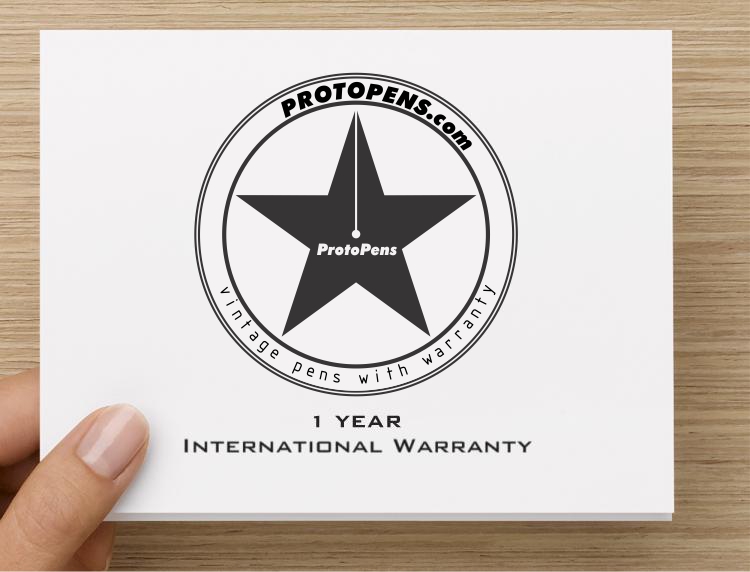 We offer some of the best vintage pens in the world! This is why we are proud to be the first and only store in the world to offer International Warranty on all of our vintage writing instruments; we call them "Certified Vintage Pens"! We include the Warranty with each of our pens at no additional cost. The terms of our Warranty are very simple, meant to give you a peace of mind, a secure and trouble-free buying experience. If a malfunction or undesired functionality issue occurs while the pen is under our Warranty and while the pen is and had been used and handled as intended by the original manufacturer, our Warranty offers the following solutions in the following order:
We will service/repair and restore your pen to its original condition completely free of charge;
If 1. is not possible, we will replace your pen with an exactly same pen in full working and cosmetic order if such pen is available at ProtoPens;
If an exact replacement pen is not available, we will offer you a replacement pen of your choice from the ones available at the ProtoPens store on the same value as the original item;
If none of the 1, 2 or 3 are possible within a period of two weeks after we receive the pen, we will issue you a full refund.
In case of a Warranty claim all you have to do is contact us and ship the item to us together with the Warranty Card (as the one shown above) which you will receive together with the pen. We are breaking new ground with this world's first warranty on vintage writing instruments, and we currently have a 1 Year warranty on every item valid from the sale date. No pen leaves ProtoPens unless it fulfills our highest standards, therefore we guarantee their superiority to any other pens, pens that will truly last for generations. All pens and other items are Guaranteed 100% Original and Authentic.