Details
WATERMAN C/F (Cartridge Filler)

Manufacturer/Model: Waterman's/(C/F)/France
Year of production: 1957-58
Filling system: Cartridge filler (First Waterman's CF pen)
Nib: Solid 18K 750 gold, EF extra fine size
Material: Body gold plate
Length (pen closed): 135mm

Condition and information:
The Waterman C/F pen, standing for "Cartridge Filler", was the first global fountain pen with the "new" revolutionary disposable cartridge filling system. Even though cartridges existed almost 100 years ago before this pen, it was Waterman's who first made the truly global cartridge fountain pen that worked. There was another company Atomica from Italy who made a cartridge pen the year before, but their market was marginal compared to this pen. The pen is a unique modern design, hard to believe that is made 60 years ago, design that followed the space age and sleek car designs at the time. The original C/F was launched in USA in 1953, this model is same, but was produced in France after 1957 as the US model was discontinued. This is a rare version fully gold plated. The fountain pen features a stunning wing nib, solid 18K gold, EF extra fine size perfectly smooth and fine writing. This nib is constant and clean, so perfect for writing small typeface letters like in pocket notebooks. This is a perfect traveler pen, compact, easy to use, clean pen. The pen is ergonomically perfect, heavy with great grip, balance and feel in the hand. The pen is in absolute NOS new old stock condition, no signs of use, no dings, no scratches, no gold ware off, perfect cosmetic and functional condition. The pen is marked "Waterman's C/F" on the cap and "Made in France" and "J02514" serial number on the barrel. The pen comes in its original box with with instructions for use and care.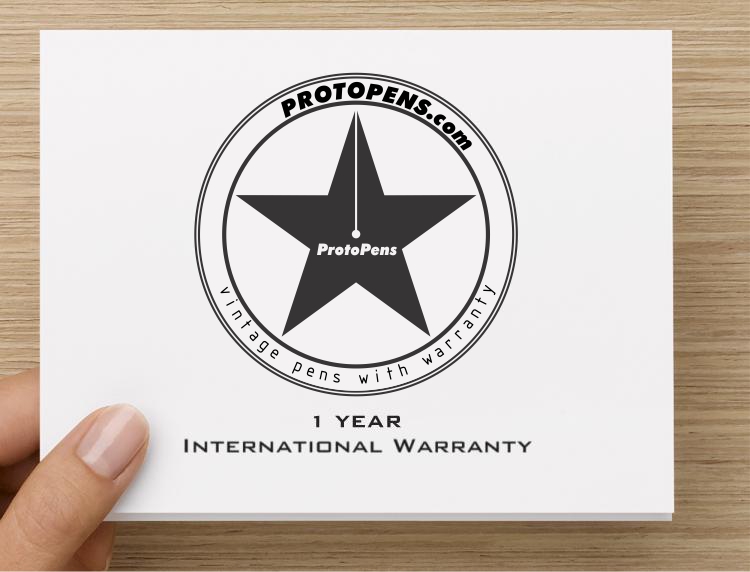 This item is covered by our 1 Year Full International Warranty at no additional cost. The terms of our Warranty are very simple, meant to give you a secure and trouble-free buying experience.
This item is located in U.S. and ships to U.S. only. We provide FREE shipping via UPS expedited 2-3 business days delivery if your cart's value is over $50 and only $5.99 if its below $50.

Prior shipping our items have to pass our highest quality control inspection, are perfectly cleaned and tested by UberPens master pen staff after which are carefully packed and sealed as shown in the pictures below. If the pen does not come in its original manufacturers box, it is packed in a special UberPens case together with a free microfiber cloth, perfect for cleaning and polishing your pens. Learn more about our shipping methods.
RETURNS: Returns are accepted. You are welcome to ship the item back to us within 5 days after receiving it in the same condition it was delivered to you and we will issue you a full refund! Learn more…
Ask a question about
1957 Waterman C/F (CF) GOLD First Cartridge 18K Gold Fountain Pen In Box
.
(NOTE: If you don't receive an email from us soon, please check your email spam folder)