Details
MATADOR No. 100

Manufacturer/Model: Matador/Germany/No. 100
Year of production: Early 1920s (or earlier)
Filling system: Safety Fountain Pen (Filles from the front with eye dropper)
Nib: 14K 585 Solid gold, Performs as B broad, fully flexible, writes up to 3B and wider
Material: Hard rubber pen, handmade chased guilloche pattern; Entire inner section (spiral; shaft & spear feed) made from Ebonite
Length (pen closed): 122mm; Posted and nib extended at 151mm
Condition and information:
This may easily be one of the very first Matador pens ever made, baring the number 100. Here's an extremely rare pen, made nearly 100 years ago in the early 1920s maybe even few years earlier. Matador pens are renowned for their craftsmanship, and seeing one in pristine original condition from the earliest pens they've ever made, it is a trip back in time. It can be clearly seen where the company started from, the attention to detail in both design and craftsmanship, the mindset of their fundamentals of engineering that lead to the astonishing Matador products we know from the 30s-50s. Matador and later known as Matador Garant is a long lost German pen manufacturer. This company made pens from the early 1900s starting with some amazing safety pens, all the way to the 1970s. We believe the company was located in the west Germany but why they stopped making pens is still a mystery. One thing is clear though, their legacy is some of the biggest in the fountain pen world. The pens made by Matador are some of the best crafted pens ever, every detail is meticulously crafted, everything had to be unique. Even though they were among lesser known pen companies at the time, Matador was one of the vanguards of the pen innovation and design. They made some of the most amazing pens with superb design and unmatched quality, in many ways better than the mainstream pen companies at the time.
The pen offered here could not be a better example of that claim. Made in the early 1920s or possibly even sooner, its nothing short of the Montblanc or Watermans safety pens at the time, even better in some respects. The pen is made out of thick hard rubber, and the entire inner mechanism is made out of thick ebonite. Safety pens are known to regularly had cracked or broken feeds or spirals as these are very fragile parts on which the whole nib and deployment mechanism rests and functions. Not on this pen however; the entire inner section is the original one, unrestored and unserviced, just cleaned. This sort of quality can be only achieved via tremendous testing and precision engineering, and that was made 100 years ago. Only safety pens that had their inside parts made from ebonite were actually any good. Ebonite is the best material humanity knows of to be corrosion resistant to many of the corrosive components found in inks, especially in those early inks which had pretty much every harmful and corrosive chemical we can think of. Ebonite is even more resistant to corrosion than many of the known plastics, which is why its still preferred choice to make feeds from even in modern times. The deployment mechanism functions perfectly, it is super precise; with the last ~1/8 turn rotation on the turning knob the nib locks into place and seals the chamber, which in turn does not allow the ink to splash out. The pen locks in fully extended position exactly when the pins on the turning knob and shaft align (see photos 7 & 8), and its fully retracted when the pins align again; what an engineering masterpiece! Safety fountain pens are still renowned for the way they work and the way they can be used; they are preferred choice of many artists and calligraphers. The safety pen is the only pen once filled the user can be absolutely sure it will write right from the get go, this is because the nib and the entire feed are completely emerged in ink.
The pen is made from hard rubber, and has a beautiful hand made chased guilloche pattern. The seam on the shaft and body is barely noticeable, which speaks to the extreme precision in mind when this pen was made. The nib is a masterpiece of its own, only as those 1920s nibs can be, a super soft near paintbrush feel flexible. The nib is elongated approximately size 4-5, with a beautiful heart shaped breathing hole. Its obvious it has been used considerably by its owner as the nib has adapted to its previous owner style and angle, nonetheless however, it is perfectly great nib, still very smooth with a tip that seems like B broad, but it will write full stub or calligraphy wide up to 3B or even wider, it writes like a charm. Paced over a ski-slope feed, it will flex all the way until the feed touches the paper, so it needs to be used with caution not to bend it. Matador marked most of their nibs with "New York", nobody really knows why, but we believe the nibs were not made in New York, rather in Germany, nor was NY or USA their main market.

Most of these earlier safety pens did not feature a safety pin (needle) inside the cap. This safety pin was introduced later. The safety pin was placed inside the bottom of the cap extruding outwards toward the nib, and if the pen was on with the nib extended, the pin would preferably hit the feed and would prevent the inside of the cap hitting the nib and damaging it. When placed correctly the safety pin would also enter inside the feed, and if the user tried to turn the pen on with the cap on, the pen would not turn on. This pen by design does not has a safety pin, so the user should never put the cap on with the nib extended nor should try to turn the pen on with the cap on. This is how many people damaged thier pens in the early 20s. However even the safety pin did not prove very successful as it required for the pen and cap to be well aligned when closed. Sometimes the safety pin would damage the nib or feed, and extreme precision was needed to make this system function properly. All of those failures lead to the invention of better filling systems, such as the piston and bladder filling systems. It's amazing to see how engineers struggled to make a filling fountain pen from today's perspective, and sometimes how difficult it was to do so.

Overall the pen is in amazing condition; it gives the impression as maybe it was made few years ago, or few decades ago, but certainly not 100 years ago! This is what makes these pens so special; it's simply hard to believe such a precision writing instrument was made a century ago, and on top of that, was not stored in some glass box, rather extensively used. Even the fine lines on the chased guilloche pattern are still crisp and smooth. The Matador inscription as well as the model number are crisp and precise. The pen is in amazingly good condition for its age; there are few visible teeth marks on the turning knob but nothing more than that, some very minimal discoloration only on the cap; there are no dings, no deformations, no cracks or other scratches or other defects, perfectly preserved and fully functional. Possibly a museum piece writing instrument worthy any and all attention!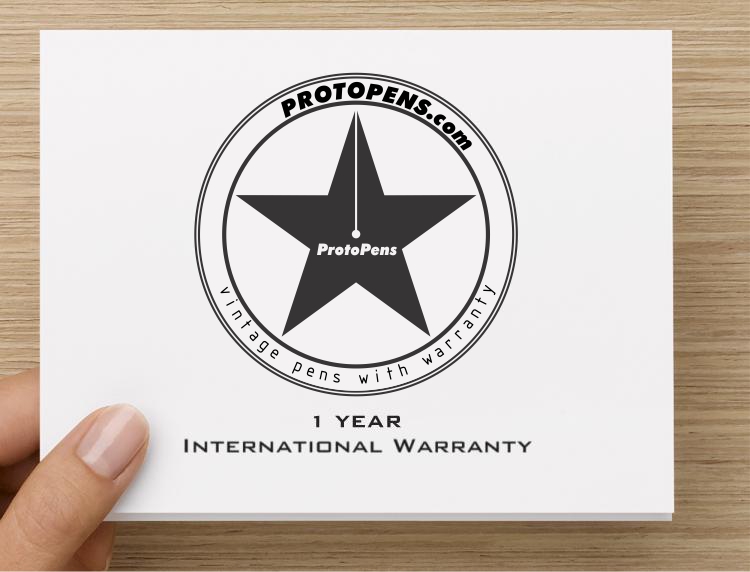 This item is covered by our 1 Year Full International Warranty at no additional cost. The terms of our Warranty are very simple, meant to give you a secure and trouble-free buying experience.
This item is located in Europe and ships Worldwide.
At checkout you can choose between two shipping options:
$8.95 Regular Postal Service, Priority & Registered Airmail - Limited Tracking 1-4 WEEKS Delivery
$38.95 DHL Express International - Accurate Tracking 1-4 DAYS Delivery Worldwide
Learn more about these shipping options.
Prior shipping our items have to pass our highest quality control inspection, are perfectly cleaned and tested by ProtoPens pen staff after which are carefully packed. If the pen does not come in its original manufacturers box, it is packed in a special ProtoPens case.

RETURS: Returns are accepted. You are welcome to ship the item back to us within 7 days after receiving it in the same condition it was delivered to you and we will issue you a full refund! Learn more...
Ask a question about
Amazing 1920s Matador No.100 Chased Black Hard Rubber Safety Fountain Pen with 14K Super Flexible B Broad Nib Made In Germany
.
(NOTE: If you don't receive an email from us soon, please check your email spam folder)
This item is bit over of what you would like to pay? No problem, we got you covered! Here you can send us your Best Offer. We will review your Offer and if we accept it, we'll email you a Discount Coupon which you can use at checkout. In case you don't receive email from us within 24h, please check your email's spam folder. We may also send you email with our Counter Offer. Please note that if the item sells while we review your offer, the item will no longer be available for sale unless there are more than 1 of same item. Thank you and we are looking forward to your offer!
Send your best offer for
Amazing 1920s Matador No.100 Chased Black Hard Rubber Safety Fountain Pen with 14K Super Flexible B Broad Nib Made In Germany
.
(NOTE: If you don't receive an email from us soon, please check your email spam folder)