Details
MONTBLANC Masterpiece 144

Manufacturer/Model: Montblanc Meisterstuck ("Montblanc Masterpiece" inscription on the caps' ring) 144/EF Engraved on turning knob
Year of production: 1959-1961
Filling system: Three stage Telescopic Piston
Nib: 14K 585 Two Tone Gold; Flexible EF extra fine, will produce any line up to BB double broad
Material: High Shine Celluloid, Gold Filled Trimmings. Amber Yellow ink window. Telescopic piston made out of steel and brass. Ivory color cap Star
Length (pen closed): 133mm; posted at 154

Condition and information:
We are very proud to offer this historic, extremely rare pen, the first we've ever come across in our decades of work - last years production of the original No.144, made probably in the year 1960, or maybe even as late as early 1961. This pen has several features that are different from the so called "1950s" Montblancs, including the 142, 144, 146 and 149. In a way, it is sitting on the boundary between two worlds, the pre 1960s Montblanc amazing pens made out of celluloid, and the post 1960s Montblanc's technically improved pens.

As we all know, the so called "1950s" models production was phased out by 1959-60 when "the new era" models started to appear, such as the Montblanc Masterpiece 12 and 14, and later or many variations on these, starting from 22, 24, 32, 34, and many more. One of the very first models to represent these changes of design, both visual and technical, was none other than this model, and amazingly it too bared the model number 144, the so called "Flat ends 144". That pen appeared somewhere 1960 and was produced for approximately only 1 year, till 1961. Since the pen here bares the inscription "Masterpiece" as opposed to "Meisterstück", it was made for export, and maybe Montblanc was covering a demand for a market outside Germany, as by this period this model was already phasing out in Germany.
What differs this 144 from the previous 1950s models are mainly two major features. First, it is factory fitted with a silicone cork, very similar cork to what was first introduced in the models 342, 344 and others, but it was used for the first time in these Meisterstuck/Masterpiece models, as opposed to the standard wooden cork. This is a major improvement over the standard 1950s 144, as this silicone cork till this day, does not require any maintenance or lubrication, it simply works as it was 6 decades ago. The second major feature is the design of the piston, that is where the previous models had a solid block piston shaft, this one is made out of two parts, with a gold plated ring around the steel piston shaft. This ring is now more flat as opposed to more fluted on the previous models, and this will become standard in all later 144/146/149 models. There are also some other minor changes, but these are mainly superficial and the pen is nearly identical to its predecessors from the 1950s. Best of all, it is made from the same materials, the lovely celluloid and the brass/steel telescopic piston.
Most amazingly however is the condition of the pen. This pen came with a sibling, two identical pens from one previous owner (a couple), who had these stored for decades and never used them. They were gifted to them, and basically never used, so this pen comes never inked, which is a true pleasure to see how they really looked and felt when they were virtually new. The listing here is for one of the two pens. Since this is a never used pen, we didn't disassemble the pen, neither its piston or even the nib unit, so it is fully preserved and assambled as was originally sold. The piston is still very smooth and since it has the silicone cork, does not require any lubrication and makes a great vacuum action.
The 144 is a truly stunning pen. These 1950s Montblanc Masterpiece pens are probably the most recognizable pens in the world and these are the pens that raised the bar - by far - when first introduced, and helped make Montblanc what it is today. If there is pen with a perfect balance, perfect form factor, perfect feel and writing experience, perfect appeal and quality, perfect for any job, this would be it. Many people argue that many other Montblanc Meisterstuck sizes (142/146/149) seem either bit too big or bit too small, some heavy, some light, some thick, some thin, but the 144 is the perfect pen. There is nothing like these Celluloid 1950s Montblanc pens. The build quality is amazing with stunning depth of colors, amber like ink window, immense attention to detail but also design as "form follows function". All of these pens were all made by hand by master craftsman. Some parts such as the piston and clip are turned/milled brass and steel, heavy and almost impossible to damage. Unlike new clips which are made from thin pressed metal plates, these clips were cast metal, and the difference is both visible and palpable. It's hard to believe that such pens were made nearly 60 years ago. The walls of both the body and cap are very thick, very heavy, with a beautiful translucent long ink windows. This together with the most overly engineered piston system patented in 1933, makes the pen very heavy, feeling solid in the hand. Solid brass and steel 2/3 stage folding telescopic piston gives the pen unusual weight and sturdiness. This piston system retracts like a vintage spyglasses inside the pen, thus making more space for the ink in the barrel. Even though a compact pen, it can take more ink them much larger pens due to the telescopic piston. This system is so complex and expensive to manufacture, that later Montblanc pens, even the 149 don't have it.
Unlike the newer models made out of black resin, the celluloid is a superior material, it simply feels as the natural material to make a pen from. This is why some of these pens still look and perform as they did 50-60 years ago. The ebonite feed is the original, providing perfect ink flow and does not react chemically with the ink, keeping the nib safe and ready. The pen has a very good ink-flow due to the two large feed canals need to supply this wet nib, a nib with even good flexibility. The nib is a rare masterpiece, not manufactured since at least few decades ago, this is a super-fully flexible nib that simply immerses itself on the paper. The pen will write lines more than 2-3mm wide on the down strokes. Depending on the way it's held, fast side strokes can be thin, and using the flex can add to the variation. Basically there is no line this pen cannot produce; some of the best writing one could hope to achieve with a fountain pen. The trimmings and the clip unlike the newer models are thick gold filled, so no gold wear off will occur. 3 gold bands on the cap help prevent cracks. The yellowish ivory like star is amazing with a distinct vintage appeal to it. A trully rare and historic Montblanc Masterpiece legend, worthy a place in a museum, the best we ever had to offer and probably ever will.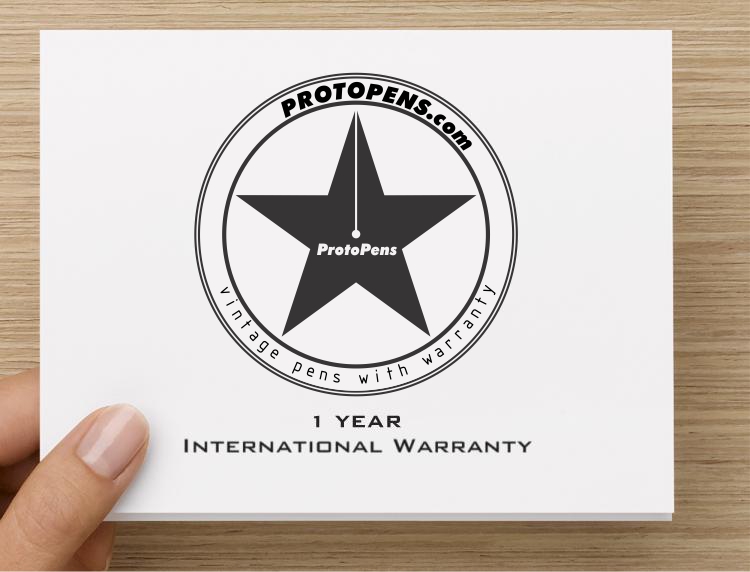 This item is covered by our 1 Year Full International Warranty at no additional cost. The terms of our Warranty are very simple, meant to give you a secure and trouble-free buying experience.
This item is located in Europe and ships Worldwide.
At checkout you can choose between two shipping options:
$8.95 Regular Postal Service, Registered - Limited Tracking 1-4 WEEKS Delivery (Due to the corona crisis, this option is currently available only to several countries)
$29.95 DHL Express International - Accurate Tracking 1-4 DAYS Delivery Worldwide
Learn more about these shipping options.
Prior shipping our items have to pass our highest quality control inspection, are perfectly cleaned and tested by ProtoPens pen staff after which are carefully packed. If the pen does not come in its original manufacturers box, it is packed in a special ProtoPens case.

RETURS: Returns are accepted. You are welcome to ship the item back to us within 7 days after receiving it in the same condition it was delivered to you and we will issue you a full refund! Learn more...
Ask a question about
Historic - Last of Its Kind - NOS - New Old Stock Never Used 1950s (1960-61) MONTBLANC No. 144 Masterpiece/Meisterstuck Celluloid 14K EF Super Flex Nib Telescopic Piston Fountain Pen
.
(NOTE: If you don't receive an email from us soon, please check your email spam folder)