Details
MATADOR

Manufacturer/Model: Matador Garant/Germany
Year of production: Mid to Late 1930s
Filling system: Piston Filling (10mm Diameter Cork Size)
Nib: Massive Size #8 14K 585 Solid gold, EF Extra Fine Size with Full Flex, writes all sizes up to BB
Material: Celluloid pen; Hard Rubber captop, turning knob and section; Steel piston rod & spiral; Gold Filled Guilloche Engraved Trimmings & Clip; Amber red with spirals ink window
Length (pen closed): 134mm; Posted at 170mm
Condition and information:
We are very proud to offer this one of the kind pen, a pen from a long lost German pen manufacturer, the Matador company. This company made pens from the early 1900s starting with some amazing safety pens, all the way to the 1970s. We believe the company was located in the west Germany but why they stopped making pens is still a mystery. One thing is clear though, their legacy is some of the biggest in the fountain pen world. The pens made by Matador are some of the best crafted pens, every detail is meticulously crafted, everything had to be unique. Even though they were among lesser known pen companies at the time, Matador was one of the vanguards of the pen innovation and design. They made some of the most amazing pens with superb design and unmatched quality, in many ways better than the mainstream pen companies at the time.

This amazing pen offered here is simply a giant among pens, something we rarely get to see and list on myUberPens.com. The pen is massive, full 170mm when posted, and with barely comprehensible size 8 nib which is simply enormous. The pen does not bare a model number except nicely engraved "Matador Garant" on the cap. From the crisp barleycorn texture and pristine condition of the pen, we are certain the model number is not worn off, rather it was never put on the pen. This leads us to believe that this was some special order pen or some pen that was made in very limited numbers, and was not intended for the market. The pen is certainly larger than the largest Matador pen we know of with a model number, that is the 998 model, however that model has a size 6 nib, as opposed to this giant size 8 nib. The second photo shows this pen next to a 1950s Montblanc 142 pen which is considered a normal size pen with a normal size nib, the size of this Matador is simply mind-boggling. The last few photos show this pen's nib and feed next to non other but a Pelikan 400NN nib and feed, which is considered large and it was largest Pelikan pen was decades. The nib is nearly 3 times in surface area than the Pelikan 400NN nib. Also on the last photo this pen is photographed next to another normal size pen, the Pelikan M30 Rolled Gold, the size difference is obvious.

This pen as most of the Matador masterpiece pens was made in the mid to late 1930s. It definitely put some of the biggest pens manufactures such as Montblanc, Pelikan and others to shame. The pen is made out of celluloid; hard rubber and ebonite, perfectly positioned gold filled wide metal band on the cap. The band and the clip are finished with beautiful and precise guilloche patterns and flat rhomboidal forms; we don't recall other companies doing such intricate guilloche engravings on a 4mm wide cap bands or clips. The clip is finished in a remarkable way with a flat rhomboid surfaces, giving it a 3D look. The body made out of shiny celluloid, has a beautifully finished crisp barleycorn pattern as well as the cap. There is also a beautiful long red amber window which is decorated with black spirals from the inside.

To top everything off, there's the nib. They marked most of their nibs with "New York", nobody really knows why, but we believe the nibs were not made in New York, rather in Germany, nor was NY or USA their main market. The nib is placed over a massive full 7mm diameter ski slope ebonite feed. As a comparison, some pens have a 7mm body diameter, this pen has a 7mm feed diameter, and body diameter at amazing 15.5mm! The nib is very soft flexible nib which will write in the best way pen could write, fine thin lines when gliding on the paper with no pressure, up to double broad with little pressure and even wider. The ebonite feed has a 2 very large ink canals which feeds the nib constantly. This will make the pen constantly very wet, with super thick lines on the up and down strokes and thin lines on the left or right ones.

The piston is one of the largest we have ever handled. The original cork diameter was a full 10mm, something we have not seen before. We had to use a special larger O-rings in order to replace the cork. There are now 3 O-rings which serve as a base on top of which 2 additional 10mm diameter O-rings are placed, making the seal with total of 5 O-rings. That is something we haven't done on any other pen before. This 10mm diameter of the ink reservoir inside, means that this pen takes up enormous amount of ink, possibly the largest ink reservoir we've ever seen on any pen. The piston is now super smooth, with cleaned spiral and shaft and operates flawlessly. The captop and the cap's inner insert and the grip section, besides the feed, i.e. all parts which are susceptible to open air ink corrosion, i.e. which come in contact with the ink are made out of the best ink chemicals resistant material - ebonite. The piston spiral and shaft are solid metal.

The pen is in pristine condition; there are no teeth marks, not scratches, no cracks or dings, not deformations, a perfectly preserved pen. Functionally the pen is in perfect condition, ready to be used. Extremely well built pen by an extraordinary pen company, a truly rare specimen with beautiful design, worth any collection and a true unique joy for daily use!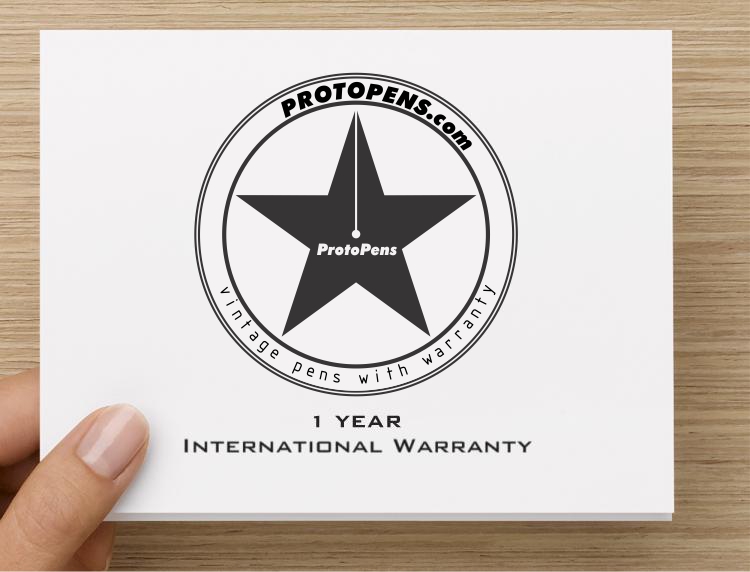 This item is covered by our 1 Year Full International Warranty at no additional cost. The terms of our Warranty are very simple, meant to give you a secure and trouble-free buying experience.
This item is located in Europe and ships Worldwide.
At checkout you can choose between two shipping options:
$8.95 Regular Postal Service, Priority & Registered Airmail - Limited Tracking 1-4 WEEKS Delivery
$38.95 DHL Express International - Accurate Tracking 1-4 DAYS Delivery Worldwide
Learn more about these shipping options.
Prior shipping our items have to pass our highest quality control inspection, are perfectly cleaned and tested by ProtoPens pen staff after which are carefully packed. If the pen does not come in its original manufacturers box, it is packed in a special ProtoPens case.

RETURS: Returns are accepted. You are welcome to ship the item back to us within 7 days after receiving it in the same condition it was delivered to you and we will issue you a full refund! Learn more...
Ask a question about
GIANT 1930s Matador GARANT Celluloid With Massive Size #8 14K EF Flexible Nib Piston Fountain Pen Made In Germany
.
(NOTE: If you don't receive an email from us soon, please check your email spam folder)
This item is bit over of what you would like to pay? No problem, we got you covered! Here you can send us your Best Offer. We will review your Offer and if we accept it, we'll email you a Discount Coupon which you can use at checkout. In case you don't receive email from us within 24h, please check your email's spam folder. We may also send you email with our Counter Offer. Please note that if the item sells while we review your offer, the item will no longer be available for sale unless there are more than 1 of same item. Thank you and we are looking forward to your offer!
Send your best offer for
GIANT 1930s Matador GARANT Celluloid With Massive Size #8 14K EF Flexible Nib Piston Fountain Pen Made In Germany
.
(NOTE: If you don't receive an email from us soon, please check your email spam folder)