Details
Pelikan 101N 1937-38 Tortoise Brown
Manufacturer/Model: Pelikan Germany/101N Tortoise Brown
Year of production: Late 1937 or 1938
Filling system: Piston filling (New x2 O-rings installed in place of the original cork)
Nib: Solid 14K 585 Gold, EF (Extra Fine), Fully flexible, (writes up to 3B tripe broad); Original Ebonite feed with long vertical fins
Material: Cast Hand made celluloid tortoise shell body and cap. Grip section: black hard rubber; Turning knob: red hard rubber; Gold filled clip and rings
Length (pen closed): 119mm, 156mm posed; Diameter at cap 13.5mm
Condition and information:
We are very proud to offer this museum worthy Pelikan fountain pen, the original 1937 Pelikan 101N in astonishing tortoise brown celluloid shell, with RHR (Red Hard Rubber) turning knob and shaft, and tortoise shell cap-top. Introduced in March 1937 for export only, this pen is one of the legends in the fountain pen world. The "N" in 101N stands for "New", as this pen was basically the second edition or successor of the first Pelikan 100 which launched in 1929 and revolutionized the fountain pen market. It is long believed that Pelikan 100 was the first piston fountain pen with a differential spiral and shaft, invented by the Hungarian engineer Theodor Kovacs in 1925, after which he sold the patent to Pelikan and made the Pelikan 100 possible. By this time this differential piston system we know and still use today, was improved and refined, and the rest is history.

Early Pelikan celluloid pens and patterns are virtually unmatched by any pen manufacturer in any era, they are simply breathtakingly beautiful objects with such a deep patina, shine, gloss and most unique patterns, they are simply works of art. If these pens were made today that would certainly be marketed as limited edition of 1 of 1, as virtually no two pens are identical. The patterns on these early 101n's are so different on each pen that they are basically a different pen each. This is why often some pens from the same model are much more beautiful than others, as simply the pattern belongs to the form, it has the right balance of colors and many other factors, such as this pen here. The pen is different from every side, it's like having a different pen every time, every time its placed on a desk, every angle, every light reveals a different gorgeous pen. This was achieved by a technique which is now long lost... they would place pieces of celluloid of different colors and shapes on a special mould/plate, just like an artist working on a canvas. Later form these sheets or bars, they would either roll it into a cylinder such as this pen's sleeve or bore into it and shape it on a lathe, such as the captop or sometimes the entire cap. The lathe boring and turning basically costed much more in material and manhours, as it leaves at least 90% of the material to waste which needed to be recycled. This is why some variations of these pens do not feature a celluloid cap-top, they were instead made out of hard rubber. Only the rolled parts (easier to make) of the pen were made from that gorgeous celluloid cast. This is one of the reasons these pens are so beautiful and special, there may be similar pens from the same celluloid blocks or sheets, but never identical.

We believe this pen here was made sometime in 1938 for export. Even though it was launched the year before, we know the date due to its logo on top of the cap which has two cheeks as opposed to 4 cheeks which was the case until the year earlier, 1937. However this pen was not made with a gold nib or possibly even at all during the war years, 1939 till 1949. Only after 1949 this pen features a gold nib again. However most of the 101Ns that we've regularly see from 1949 till 1951 when it was discontinued, have a very blend monotone body sleeve and/or cap, which lacks the colors of different shades celluloid mixtures. Not on this pen however, its vibrant, colorful with deep reflective look, simply mesmerizing. Another nice feature is the 4 step spiral thread on the cap and on the barrel; Depending where the starting position is when the user starts to screws on the cap, the cap will be screwed all the way to close the pen on any of 4 different positions, i.e. align with the pen body in 4 different positions randomly. Hence, the pen will always have a different look. This 4-step thread also allows for the cap to travel more on a more compact thread, thus making it fast to deploy or close but also securing the cap closed only with 1-1.5 rotations. These are just some of the details that make these vintage Pelikan pens so special, unlike newer pens which usually do not go to such extreme lengths.

Most amazingly however is the pen's condition. This is one of those gems that come out extremely rarely. The pen has no cracks, scratches, dings, chips or teeth marks, no deformations, discoloration or brassing, it is simply a time capsule as it was made months and not 80 years ago. The fact that the pen is in such a good condition, speaks volumes about the quality of these pens. The Pelikan 100s, are arguably the pens with the perfect size and form factor. They simply belong in the hand, they feel wonderful, do not tire the hand, are easy to grip and hold, feel perfectly balanced, are easy to use and fill and a true joy to write with. The entire history of Pelikan pen making is based on these pens. Some consider them small since closed they are only about 120mm in length, however that is not how they are meant to be used; only when posted the pen comes to its intended size, which is larger than most pens, such as Montblanc 144 and comparable to the 146. The compactness when closed was intended to be easily stored in a shirt or coat pocket.

The pen is in perfect working order. Made with more than 20 parts, this is a masterpiece of precision engineering, hard to believe that is was made 80 years ago. All parts on this pen are its original parts, only thing replaced is the cork. We have fitted the pen with x2 new rubber O-rings which replace the old cork, the only part on this pen that ages and needs to be replaced. The piston is now super smooth, easy to turn and fills all the way to the top and will work flawlessly for decades. There is that lovely early deep orange ambler color barrel with large and clean ink window. The inscription on the cap-top is nice and crisp, inscribed twice in a row, "Pelikan D.R.P." which stands for Deutsches Republic Patent.

One of the best features of this pen is of course its nib. This is the epiphany of nib making. The nib is fully flexible, but even in the way it flexes there is that special touch. It is a true sharp EF extra fine, but the iridium tip is full and not worn off, even a bit on the scratchy side, as it seems the pen has been hardly used. It will need some time to adapt to its new user. It will flex on each stroke, up or down, left or right and it will write any thickness line up to 3B. It is fed by its original ebonite feed with 3 vertical fins/radiators. This feed has a very large ink canal allowing for constant ink flow, making the nib quite wet. These nibs are considered one of the best performers, and are valued more then the later models, now called the golden age of Pelikan nibs. This type of nib produces some of the best writing, it can mimic almost any nib size. The writing is unique that varies from very thin lines to extremely wide lines, it can express emotions while writing.
This object is more than a pen, though always ready to write magnificently, it is an engineering achievement hardly surpassed and a true work of art to be admired.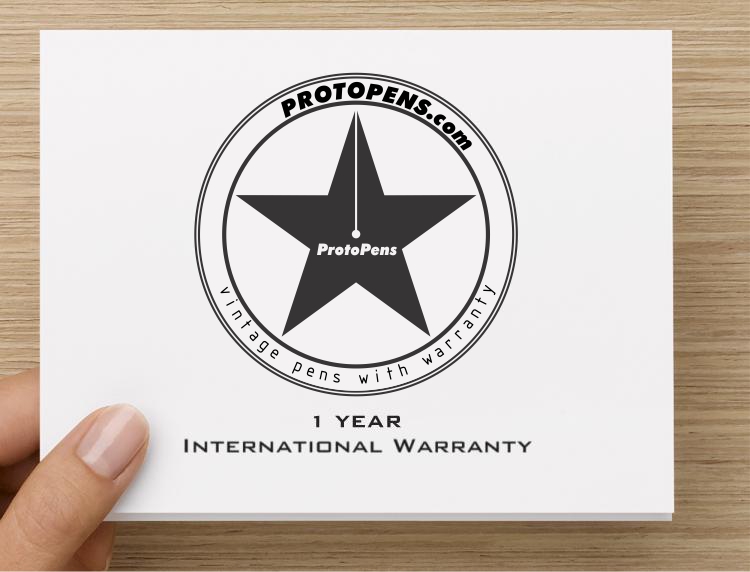 This item is covered by our 1 Year Full International Warranty at no additional cost. The terms of our Warranty are very simple, meant to give you a secure and trouble-free buying experience.
This item is located in Europe and ships Worldwide.
At checkout you can choose between two shipping options:
$7.95 Regular Postal Service, Registered - Limited Tracking 1-4 WEEKS Delivery (Due to the corona crisis, this option is currently available only to several countries)
$29.95 DHL Express International - Accurate Tracking 1-4 DAYS Delivery Worldwide
Learn more about these shipping options.
Prior shipping our items have to pass our highest quality control inspection, are perfectly cleaned and tested by ProtoPens pen staff after which are carefully packed. If the pen does not come in its original manufacturers box, it is packed in a special ProtoPens case.

RETURS: Returns are accepted. You are welcome to ship the item back to us within 7 days after receiving it in the same condition it was delivered to you and we will issue you a full refund! Learn more...
Ask a question about
Gorgeous Original 1937-38 Pelikan 101N Celluloid Deep Shiny & Colorful Tortoise Brown Shell & RHR EF 14K Flexible Nib Piston Fountain Pen
.
(NOTE: If you don't receive an email from us soon, please check your email spam folder)
This item is bit over of what you would like to pay? No problem, we got you covered! Here you can send us your Best Offer. We will review your Offer and if we accept it, we'll email you a Discount Coupon which you can use at checkout. In case you don't receive email from us within 24h, please check your email's spam folder. We may also send you email with our Counter Offer. Please note that if the item sells while we review your offer, the item will no longer be available for sale unless there are more than 1 of same item. Thank you and we are looking forward to your offer!
Send your best offer for
Gorgeous Original 1937-38 Pelikan 101N Celluloid Deep Shiny & Colorful Tortoise Brown Shell & RHR EF 14K Flexible Nib Piston Fountain Pen
.
(NOTE: If you don't receive an email from us soon, please check your email spam folder)