Details
Parker 61 Capillary Filler

Manufacturer/Model: Parker/61/USA
Year of production: 1956-1969
Filling system: Rare Capillary filling "suction". Unused, never filled capillary cartridge
Nib: Solid 14K 585 Gold - F fine size
Material: Entire pen, gold filled or rolled gold, body and cap
Length (pen closed): 134mm; Posed 141mm

Condition and information:
The Parker 61 pen was launched in 1956 as a revolutionary pen with a new revolutionary filling system, the "self-filling capillary cartridge". It was exciting, modern/space era period and everything was in that spirit. People and companies believed they can do anything, and they pretty much did. Every ad was almost always with stars and planets and technology. Parker was probably the most technologically advanced pen company at the time, and certainly the one experimenting and doing the most R&D. One of the main problems at the time was, (when people were using fountain pens as frequently as we use smartphones today), how to fill a pen without ever touching the ink or even having to wipe the nib or section. Many companies attempted some kind of "clean" filling system. This capillary cartridge by Parker was one of those systems. The pen was meant to be filled by opening the barrel only, and submerging the cartridge into the bottled ink (pen upside down - see last photo). This way, Parker argued you wouldn't even need to wipe the cartridge as it was made by special plastic on which ink "can't cling", just screw on the barrel back. This system was using the capillary action/force which is the same way the ink flows through the feed and onto the nib, however in the reverse direction, now filling the cartridge. The working principle of this system is a folded/rolled special foil, but also perforated so it can store more ink. Since when rolled the walls of the foil are so close together that they act as a small tubes, and the ink is just sucked upwards by the capillary force. This principle looks easily done at first, but it is actually quite complicated and it turned out to be very difficult to manufacture and it often clogged when dried up. Few of these pens with capillary filling cartridge are found these days still working. This one here is special as it comes with a unused never filled cartridge, ready to be filled an used as it was intended in the 50s and 60s. The secret to successfully using a 61 capillary filler is to use it constantly and fill it regularly. If not used it should be flushed with water, but only by its own capillary action, not forcefully, meaning submerging it with the capillary cartridge down in the glass of water, after its filled, shaking that water out and repeating the process several times. The self-filling capillary cartridge however proved to be very complicated to manufacture. Hence later UK and US 61 models, starting from 1970 had the standard aerometric bladder filler but this also made it possible for the pen to be used with cartridges, as this 61 with capillary cartridge cannot be used with regular cartridges. Since the simpler filing system was same as on the 45 and some other models, this simplified production but also gave the customers an option to use the same converter or cartridges on various model pens.

The Parker 61 borrowed much from its predecessor and still active and popular on the stage Parker 51. Besides the shape being more modern, an arrow inlay on the section was included to show where the actual nib was, as many customers complained they could not see the nib as it was so deeply hooded. The 61 features a fully hooded nib, which makes ink drying on the nib more difficult, i.e. it could even be left open (uncapped) for a longer period and still write when needed. This also provided a protection to the nib. The pen design embodies everything we love about the 60s "jet and space" era inspired design. Looking it from the side the pen looks like a streamlined jet airplane, simply beautiful and elegant writing instrument that captured the hearts and souls of the people. The 61 had number of designs, colors, variations; hence it is one of the most collected Parker pens in the world today. This pen here is a more rare version, all made from rolled gold/gold filled and a Mother of Pearl like dark grey crown. The nib is superb, tubular/cylindrical F size, solid 14K gold and smooth on the paper. The pen has a great feel posted or not posted due to its weight, and great balance and feel in the hand. This is one of the best posting pens, as the barrel goes inside the cap almost the full lenght of the cap. This makes the cap come close to the center of the pen, and when posted, this makes the pen feel so right and balanced in the hand. It is one of the most comfortable pens one can use, it is ergonomic, and it does not tire the hand or fingers. The pen comes in a NOS - New old stock condition, never used, still with its clip nib size tag.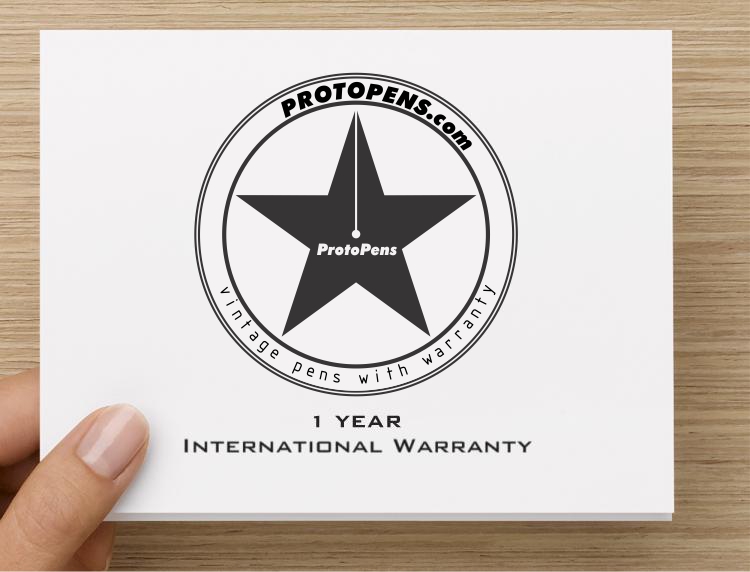 This item is covered by our 1 Year Full International Warranty at no additional cost. The terms of our Warranty are very simple, meant to give you a secure and trouble-free buying experience.
This item is located in Europe and ships Worldwide.
At checkout you can choose between two shipping options:
$8.95 Regular Postal Service, Priority & Registered Airmail - Limited Tracking 1-4 WEEKS Delivery
$38.95 DHL Express International - Accurate Tracking 1-4 DAYS Delivery Worldwide
Learn more about these shipping options.
Prior shipping our items have to pass our highest quality control inspection, are perfectly cleaned and tested by ProtoPens pen staff after which are carefully packed. If the pen does not come in its original manufacturers box, it is packed in a special ProtoPens case.

RETURS: Returns are accepted. You are welcome to ship the item back to us within 7 days after receiving it in the same condition it was delivered to you and we will issue you a full refund! Learn more...
Ask a question about
NOS 1960s MKII Made in USA PARKER 61 Original Unused Capillary Filling Cartridge Gold Filled & Black 14K F Nib Fountain Pen
.
(NOTE: If you don't receive an email from us soon, please check your email spam folder)