Details
Pelikan 100 Green Marbled
Manufacturer/Model: Pelikan Germany/100 Green Marbled
Year of production: Exact year unknown, somewhere between 1939 and 1944
Filling system: Piston filling (Original "rubber" cork serviced and preserved)
Nib: CN - Chromium Nickel - Traces of gold plating on the nib - EF Extra Extra Fine Super Flex melts on paper, writes up to BB/3B, super wet and consistent; Original Ebonite feed with 3 long vertical fins in Ebonite collar
Material: Cap, Captop, Front Grip Section & Barrel sleeve - celluloid. Turning Knob and Piston Assembly - Ebonite/Hard Rubber. Barrel either celluloid or acrylic, most likely celluloid. Gold Plated clip and rings, standard drop shape clip
Length (pen closed): 117.2mm, 160mm posed; Diameter at cap 12.8mm; Diameter at barrel ink window 10.8mm; Diameter at barrel sleeve 11.8mm; Cap length with captop and clip 60.8mm; Barrel length without nib with t.knob 94mm
Condition and information:

*Date first published & listed: June 7th 2021

You can see a video and writing sample of this pen here:
https://www.youtube.com/watch?v=5YAZmqPqDf8

Context & Provenance:
To read more about the circumstances about how and where this pen was found, please visit our blog page here:
https://www.protopens.com/blog

The Green Marbled Pelikan 100s:
The pen offered in this listing and pictured above, is one out of 33 Pelikan 100 and 100N pens in this find. Out of these 33 Pelikans there are only 4 Pelikan 100 Green Marbled pens in never used condition. Unlike some of the other Pelikans in this find, that had shown some corrosion on the clips which is easily serviceable/restorable, these 4 Green Marbled Pelikans were basically brand new, no corrosion or any kind of blemishing whatsoever. This is due to how they were kept, as even the moisture in the air can cause corrosion over many decades. Usually in such conditions if the pens touch each other can cause these effects, it also depends in what kind of box they were stored, were there any additional wrappings such as paper or a cloth, as those together with the box will absorb most of the air moisture and more sudden temperature variances and act as a buffer in a way. On the other hand some air moisture is also good for the pens, so the same pens kept in the same location can exhibit differences in aging when the time axis becomes so long. All of these 4 pens have identical but slightly different sizes CN nibs, and each will be featured individually unless identical to this one, which will be also clearly stated in each consecutive listing. The inscription on the cap is "Pelikan D.R.P.".
Now, you have probably noticed the wide array of years in the title, starting from 1939 to 1944, which some of you collectors consider a true heresy for us not to be able to pinpoint the exact year and sometimes even the month of production, and indeed you are right, it is a heresy. However when it comes to these 100s and especially about these war models, and especially in these transitional models, and especially when records were vaguely kept and almost entirely destroyed in WWII, there are probably only a handful of people in the world, maybe even less, that will know exactly what year this pen was made and what exactly is going on with these pens and why there are some inconsistencies with the Pelikan pen (pens that will be offered here), why we are not able to determine the exact year, and why some "known facts" don't seem to fit on some of these Pelikan pens.

Probably the most revealing factor on these pens including the one on offer here is the piston head, that the the rubber like material that replaces the old cork. These were introduced in 1942. Even though this is a 100 and not the 100N model, this one comes with a CN nib, which was not entirely not heard of, as even if it preceded the 100N, eventually the 100 and the 100N were produced in parallel for 1-2 years. First the 100N was only produced for export, and was often exported together with the 100, while in Germany only the 100 was offered for 1-2 more years. The cap, captop and section are made out of celluloid. The sleeve is also celluloid. (We fit the sleeves back with just a touch of a silicone grease underneath them. Since there was little to no shrinkage in the pens this is possible and instead of using any kind of glue, including shellac, the best way to keep the sleeves safely on the barrels is basically just by a touch of silicone grease. This way any repair in the future will never have to deal with any glued parts). Usually the pens from this era had a hard rubber/ebonite cap, captop and even a section. Furthermore, the barrel is the two part barrel, celluloid grip section and very likely transparent celluloid barrel. Even though we have tested the pens, we cannot quite determine if the barrel is a transparent celluloid or is it actually early acrylic introduced just a couple of years later, however it's certainly not the injection molded one-part barrel-section as these are obviously two separate parts.
To add to the intrigue, the pen is fitted with a CN nib, which would suggest a pen made or at least assembled by Pelikan in late 1939 to early 1940 when the prohibition of gold use in pens started. Or maybe that the shopkeeper did the swap during the war 1940-41-42 in order to stay in business. Needless to say, some of these pens raise more questions than they answer. We can only present the facts and the pens as we have them, but we are certainly not any of those handful of people which can shed more light to these pens.

From what our experience and research tells us, these 4 pens are transitional 100 models using components from several phases of the 100 model development, what the people which are deep in the Pelikan rabbit hole call the 6th generation 100, made somewhere in between 1939 and 1942.
Please examine all of the photos closely and draw some professional dating conclusions yourselves. Please also feel free to ask for additional photos including from some obscure details of the pen, or ask anything you deem necessary. If knowing and willing, please share any information which you deem needs correcting or simply adds to this knowledge and we will cite it here so other people can read it and enjoy it too.

This pen:
The pen offered here as most from this collection is a museum worthy Pelikan 100 green marbled fountain pen. The Pelikan 100 was the first piston fountain pen with a differential piston filling system, invented by the Hungarian engineer Theodor Kovacs in 1925, after which he sold the patent to Pelikan and made the Pelikan 100 possible. The differential piston system we know and still use today, is based on this one, the rest is history.
Early Pelikan celluloid pens are virtually unmatched by any pen manufacturer in any era, they are simply breathtakingly beautiful objects with such a deep patina, shine, gloss and most unique patterns for the color celluloids, they are simply works of art. The Pelikan 100 embodies the Bauhaus design where form follows function, and to this day, it is still one of the most comfortable pens to hold and use, simply fits in the hand, has a perfect balance and thickness, has a natural warmth and feel in the hand, it simply belongs.

Pelikan, starting in 1929 marketed these pens as the first transparent pens, where the ink level can be easily read and easily refilled with the piston action when the ink was going low. In addition they proudly marketed the pen as astonishing technical advance in writing, which couldn't be more true as we still use the same filling and writing principles today. Another nice feature is the 4 thread spiral on the cap and on the barrel; no matter where the starting position is when the user starts to screws or unscrews the cap, the cap will be screwed/unscrewed all the way to close or open the pen on in only 1-1.25 rotations. These are just some of the details that make these vintage Pelikan pens so special.

Most amazingly however is the pen's condition. The pen has no cracks, scratches, dings, chips or teeth marks, no deformations, discoloring, it is simply a time capsule as it was made months and not 80 years ago. The pen is in perfect working order. Made with about 18 parts, this is a masterpiece of precision engineering, hard to believe that it was made 80 years ago. All parts on this pen are its original. The only part that needs some work on is the rubber cork. These tend to shrink a bit over time, and we have a technique to expand them a bit so they form a good seal with the barrel shaft. Now they work like a charm. The piston is now super smooth, easy to turn and fills all the way to the top and will work flawlessly for decades. There is that amazing barrel clarity rarely seen on these old 100s, a lovely bright green ink window. The inscription on the captop is nice and crisp, inscribed twice in a row, "Pelikan D.R.P." which stands for Deutsches Republic Patent. The rings are tightly fit to the cap that suggests there is no shrinkage or deformations.

One of the best things about this pen is of course its nib. This is the epiphany of nib making. The nib is fully flexible, EF CN nib which stands for Chromium-Nickel, with a crest above the breathing hole. The crest was meant to give the tines more movement and make the nib more flexible. The CN nibs were the successors of the Pd nibs which came after the prohibition of gold for non essential use during WWII. The idea was that since this alloy didn't rust and was also flexible, it would provide the same feeling and writing experience as the gold nib. In most respects they were right, and it did, superbly. This is a truly super flexible nib that simply melts on the paper. It will write any size from EF up to double broad or even wider. Unlike EEFs EF nib is much smoother on the paper, and will only become more smooth as it adapts to its owner writing angles and style. It is fed by its original ebonite feed with 3 vertical fins/radiators and sharply tapered at the back end. This feed tapering provides kind of pre-ink reservoir behind it, essentially creating a pre-ink chamber, where the entire weight of the ink reservoir is directly transferred to the ink canals of the feed but it also helps for the capillary action to be able to suck up the last few drops of ink in the barrel. This feed has a very large ink canal allowing for constant ink flow, making the nib quite wet. The imprints are super clear and parts are still filled with the green filling originally done on this pen. The finely grooved/knurled ebonite turning knob feels nice and provides the needed grip when filling the pen.

It's not by chance that the 100 is one of the most appreciated, most collected and most admired pens in the world. Having the pleasure of working with so many of these pens, one understands why this is. It's just amazing the precision with which these pens were crafted, the ebonite/hard rubber differential piston mechanism is so well engineered, the entire pen disassembles like a true mechanical machinery, no glue was used in the original assembly, no lubricants were used, all parts are threaded or friction fitted. The form, shape and size were spot on from the day it was conceived, and they still are to this day, it just felt so right in the hand, the weight and the ergonomics, basically perfect.

These Pelikan 100s are more than just pens, they are engineering and design timeless masterpieces.

*Please feel free to contact us if you need any additional information or if you'd like to add or comment on this description.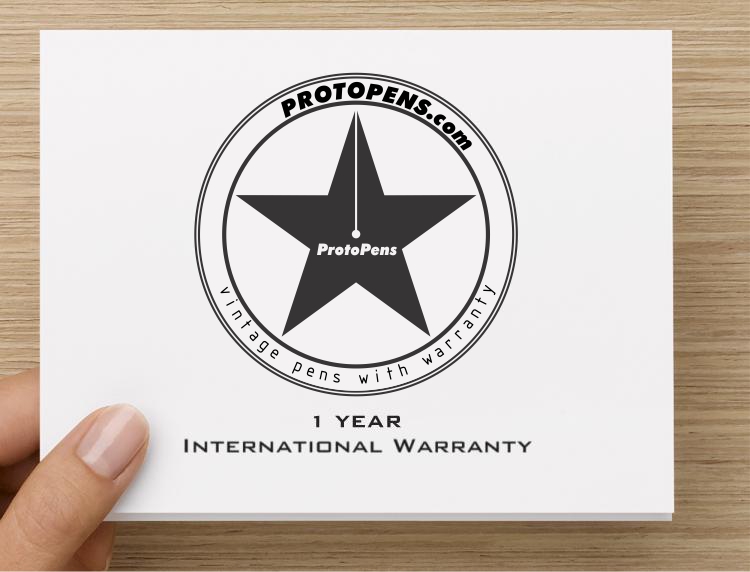 This item is covered by our 1 Year Full International Warranty at no additional cost. The terms of our Warranty are very simple, meant to give you a secure and trouble-free buying experience.
This item is located in Europe and ships Worldwide.
At checkout you can choose between two shipping options:
$8.95 Regular Postal Service, Priority & Registered Airmail - Limited Tracking 1-4 WEEKS Delivery
$38.95 DHL Express International - Accurate Tracking 1-4 DAYS Delivery Worldwide
Learn more about these shipping options.
Prior shipping our items have to pass our highest quality control inspection, are perfectly cleaned and tested by ProtoPens pen staff after which are carefully packed. If the pen does not come in its original manufacturers box, it is packed in a special ProtoPens case.

RETURS: Returns are accepted. You are welcome to ship the item back to us within 7 days after receiving it in the same condition it was delivered to you and we will issue you a full refund! Learn more...
Ask a question about
Original Never Used 1939-44 Pelikan 100 Celluloid & Ebonite Green Marbled EF to BB Super Flexible CN Nib Piston Fountain Pen From an Amazing Attic Find
.
(NOTE: If you don't receive an email from us soon, please check your email spam folder)