Details
Parker Duofold International Jasper Red
Manufacturer/Model: Parker Duofold International; Jasper Red; Made in the UK
Year of production: Made in April, May or June of 1996 (Dating code IIY) (Discontinued in 2004)
Filling system: Parker Cartridges or Piston Converter (Original Parker Piston Converter Included)
Nib: Solid 18K 750 two tone gold, M Medium size; Soft nib with some flex; Writes up to BB double broad
Material: Highest Grade Acrylic Resin, Gold Trimmings (GT)
Length (pen closed): 132mm; Posted at 164mm
Condition and information:
We are very proud to offer this exceptionally beautiful and rare Parker Duofold International Jasper Red made in 1996. This was one of the first pens to feature the Duofold redesign (MKII) which happened in 1996. One of the main features to help distinguish between the newer MKII and older MKI is the cap's rings, where the older have one thicker and one thinner ring, the MKII has two same thickness rings and tapered captop as opposed to the strait cap top on the MK1. These modern UK Duofolds started their life back in 1987 to be released in 1988 to celebrate the 100 year anniversary of the Parker company.
The International model was introduced a year later in 1989 to complement and eventually replace the Centennial, the difference was that it was just a slightly smaller pen, but nearly identical in design. This, the Jasper Red is one of the more rare variants, and it's gorgeous. The pen is made out of thick acrylic resin, giving it a unique deep shine, luster, unique pattern, and stark strong colors. The trimmings are thick gold plated as well as the Duofold logo on top of the cap. These were among the first Parker pens to be produced with super high precision machines, and hundreds of steps and parts involved, and the result is visible. The pen simply stands out in quality, as soon as it's held it gives a feel and impression of perfection in craftsmanship. It's perfectly balanced with a great grip and feel. The pen is large, posted or not.
It will feel comfortable in the hand and glide over the paper effortlessly with its super smooth M medium nib. The nib is large 18K 750 gold, M medium size, very very smooth on the paper with constant ink-flow and fine writing.
This is an extremely easy pen to use and maintain. Easy to disassemble and clean. The feed is a slip-on type (without a collar), so easy to remove simply by pulling it together with the nib. They are also very easy to align and put back into the section again, as there is a notch on the feed where the nib locks in place exactly. It can be used with its original included Parker ink piston converter or standard Parker cartridges. Will come in an original Parker box. Simply a superb pen, one of the best ever made by Parker, unbelievable quality, looks and feel, endurance, design, and performance. Everything a great fountain pen should be.
The pen is in perfect near NOS condition, never used, no scratches or any cosmetic issue, perfect condition.

*Last several photos show this pen next to some of its siblings, Check Citrine, Blue Pinstripe & Platinum Black PT, all Duofold International Size. Even though on some photos they may appear slightly different in size, they are not, they are identical in size. This is due to a photo angle and slight setting misalignment.


A question that comes quite often is, what is the difference between Parker Duofold Centennial and International?
Basically, they are the same pen where the only difference is the size. Simply put, the Centennial is enlarged International. All details trims and proportions are roughly the same. Even though they are both big pens, the Centennial is slightly larger than the International, both in thickness and length. It is also approximately 1/3 heavier, depending on the model. Some prefer the International size for day to day use as opposed to the Centennial. The International model is slightly handier, feels more natural in the hand as it's a more normal-sized pen. The Centennial is a thicker pen and besides its imposing looks and appeal it's not a pen many people would use comfortably and continuously several hours per day. Almost all the Parker Duofold pen models and variations from this era were made in both Centennial and International versions, including this pen. Only very few models were made in either Centennial or International version only. The nibs are also different in size. The Centennial size is 1 size larger in diameter and length, so nib units are not interchangeable from Centennial to International and vice versa.
The dimensions of Parker Duofold Centennial vs International are as follows (may vary slightly by models):

Overall length closed/capped:
Centennial: ~137mm
International: ~132mm

Overall length posted:
Centennial: ~173mm
International: ~164mm

Body diameter/thickness:
Centennial: ~13mm
International ~12mm

Cap diameter/thickness:
Centennial: ~15mm
International ~14mm

Weight (depending on the model):
Centennial: ~30 gr
International: ~21 gr

Nib size (feed diameter)
Centennial: 6.3mm
International: 6.1mm

Nib size (Length):
Centennial: 35mm
International: 32mm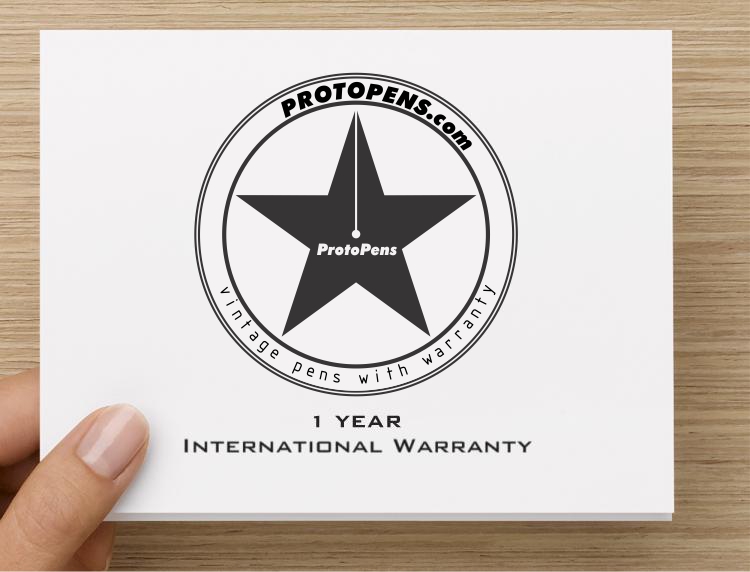 This item is covered by our 1 Year Full International Warranty at no additional cost. The terms of our Warranty are very simple, meant to give you a secure and trouble-free buying experience.
This item is located in Europe and ships Worldwide.
At checkout you can choose between two shipping options:
$8.95 Regular Postal Service, Priority & Registered Airmail - Limited Tracking 1-4 WEEKS Delivery
$38.95 DHL Express International - Accurate Tracking 1-4 DAYS Delivery Worldwide
Learn more about these shipping options.
Prior shipping our items have to pass our highest quality control inspection, are perfectly cleaned and tested by ProtoPens pen staff after which are carefully packed. If the pen does not come in its original manufacturers box, it is packed in a special ProtoPens case.

RETURS: Returns are accepted. You are welcome to ship the item back to us within 7 days after receiving it in the same condition it was delivered to you and we will issue you a full refund! Learn more...
Ask a question about
Rare 1996 IIY UK PARKER Duofold International MKII Jasper Red GT 18K Gold M Medium Two Tone Soft Nib Fountain Pen w/ Piston Converter
.
(NOTE: If you don't receive an email from us soon, please check your email spam folder)