Details
MONTBLANC No.14 Masterpiece

Manufacturer/Model: Montblanc No.14 Red/Germany
Year of production: Late 50s - Early 1960s
Filling system: Piston filling
Nib: Solid 14K 585 gold; EF Extra Fine with Full Flexibility, will write F, M, B and BB
Material: Highest Grade Red Resin; Gold Filled Trimmings
Length (pen closed): 136mm; posted at 151mm
Condition and information:
This pen is the big brother of the model No.12, the 14 model. The 14 model is the largest pen of all two digits Montblanc pens of the 60s. These include the model numbers 12, 14, 22, 24, 32, 34 and their rolled and solid gold versions 72, 74, 82, 84, 92 and 94 which were launched in the 1960s to replace the older 3xx and 2xx series from the 1950s. The 1X pens are the Meistersutck/Masterpiece pens, to this day all Montblanc models starting with the number 1 are the flagship highest quality pens made by Montblanc. The pen at the time had its retail price 27.5 Deuche Marks when was originally sold, almost on par with the 149 pen sold at the time which was 33DM, and was covered by a lifetime warranty.
This can easily be the most beautiful Montblanc pens of the 60s. In the decade when it was made, this pen together with the 74/84/94 were the flagship pens, and were more expensive than almost all other pens in the lineup. These pens were launched to replace the older 3xx and 2xx series and were completely new approach by Montblanc, both technologically with new materials and complete mechanical solutions and redesign compared to its predecessors. Montblanc was offering a lifetime warranty on this pen when it was originally sold. The No.14 pen model is based on the famous model 24, one of the most complex Montblanc pens with approximately 20 parts making the pen. However the similarities end there, the 14 is a high-end pen, a pen deserving the "1" as a first number, which was given only to the Meisterstuck/Masterpiece pens. It features a highest grade Precious Red Resin and a thick gold filled trimmings. The pen here comes in a more rare version, a nice red burgundy color that makes it looks so much more appealing and belonging to the 60s era. The cap ring is beautiful and unique, gold filled and giving the pen amazing look. Due to its enormous width it prevents cracks to appear on the cap; we've almost never seen a Montblanc 14 with cracked cap due to this very wide ring/band. Another ring is located on the turning knob, and besides the aesthetics, it also doubles as crack protection to the turning knob. The pen is near perfectly balanced, feel solid and heavy posted or not and it can be considered as oversized pen due to its thickness and length. The Resin shines and its difficult to scratch, it makes it look as the pen was made just recently rather than many decades ago. Amazing amberish yellow ink window over the blue piston shaft is gives out an amazing color blend, besides providing easy ink level readout. Very precise slip-on cap for fast deployment and secure closure "Aeromatic" as Montblanc calls it, which means its a pressure tight and won't leak on planes or other various pressure environment. These were one of the first pens not to feature a breathing hole on the cap, i.e. keeping the nib airtight, not allowing it to dry, keeping the moisture inside the cap. This was only possible with the new corrosion resisting materials at the time and most importantly the silicone socket inside the cap that allowed made for a perfect fit section on cap. In addition the cap has a very nice and distinct "click" sound when opening or closing the pen. The front section is easily removable to expose both the barrel and the entire nib unit, so it's very easy and convenient to clean and maintain. The pen features a stunning super smooth superb 14K 585 solid gold EF extra fine nib, with No.14 model number imprint on the face. The nib is smooth and the paper and with zero scratching, it is also semi-flexible; it produces a wonderful writing with line variation, a joy to write with. Montblanc signature stars are located both on the cap and turning knob. The piston is super smooth, with its original silicone cork and takes considerable amount of ink. A true Montblanc Masterpiece legend as its name implies; he perfect fountain pen. The pen is in absolute mint condition, seems to barely been used, with no scratches or any cosmetic issues.
The Montblanc ad on the last picture probably says it best:
"MONTBLANC is one of the finest pens you can give or own. Regardless of price, the MONTBLANC possesses an air of elegance, of classic beauty, of impeccable good taste. Long known as Europe's leading fountain pen, the MONTBLANC has superb craftsmanship ... unbelievably smooth writing action ... perfect balance. Its point is 14 or 18 karat gold. Its giant ink capacity is due to an ingenious filling system. It is proclaimed by many pen experts here and abroad to be the finest fountain pen ever designed. Aeromatic-ink control permits safe use while flying. You will treasure it as a personal possession of value and distinction, something you will be proud to own and use."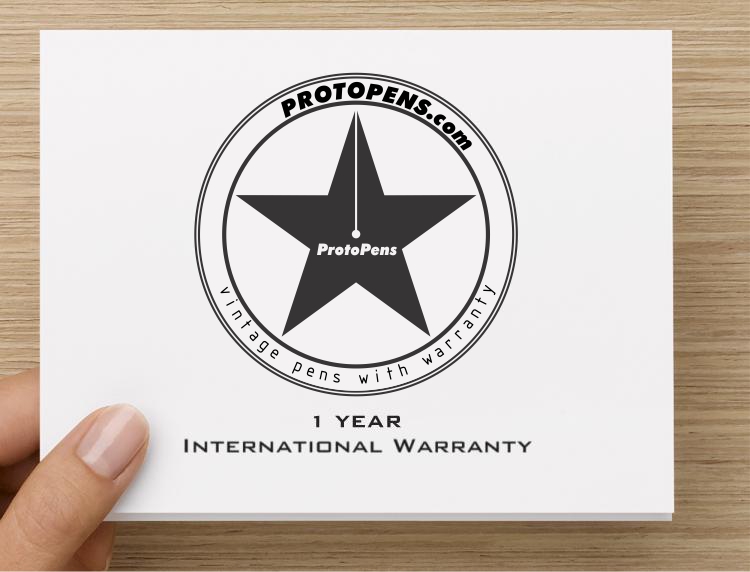 This item is covered by our 1 Year Full International Warranty at no additional cost. The terms of our Warranty are very simple, meant to give you a secure and trouble-free buying experience.
This item is located in Europe and ships Worldwide.
At checkout you can choose between two shipping options:
$8.95 Regular Postal Service, Registered - Limited Tracking 1-4 WEEKS Delivery (Due to the corona crisis, this option is currently available only to several countries)
$29.95 DHL Express International - Accurate Tracking 1-4 DAYS Delivery Worldwide
Learn more about these shipping options.
Prior shipping our items have to pass our highest quality control inspection, are perfectly cleaned and tested by ProtoPens pen staff after which are carefully packed. If the pen does not come in its original manufacturers box, it is packed in a special ProtoPens case.

RETURS: Returns are accepted. You are welcome to ship the item back to us within 7 days after receiving it in the same condition it was delivered to you and we will issue you a full refund! Learn more...
Ask a question about
Rare Mint Large 1960s MONTBLANC No.14 Masterpiece Meisterstuck Burgundy Maroon Red Resin 14K Gold EF Flexible Nib Fountain Pen
.
(NOTE: If you don't receive an email from us soon, please check your email spam folder)