Details
Conklin - Chased Chevron Gold Filled
Manufacturer/Model: Conklin, Ohio, Toledo/USA
Year of production: Mid 1920's
Filling system: Bladder Lever filling (new sac installed)
Nib: Solid 14K gold; Large No.3 Nib, elongated. EF extra fine. Fully flexible near wet noodle nib, will write all sizes up to 3B
Material: All body and cap thick 14 gold filled with chased chevron pattern. Base is hard rubber
Length (pen closed): Compact when closed 125mm, Oversize when posted at amazing 164mm
Condition and information:
We all know the great story about the Conklin pen and Mark Twain... one of the greatest wordsmiths of all time saying: "I prefer it to other fountain pens, because it carries its filler in its own stomach, and I can not mislay even by art or intention. Also, I prefer it because it is a profanity safer; it cannot roll off the desk.". Founded in 1898, they soon became on of the best pen companies in US. Right from the start their founder's invention Mr. R. Conklin was the so called "crescent filling pen", which unlike other lever fillers had the circular crescent filler pressing the bladder inside the pen, something like 1/2 of a coin pressing the bar inside the barrel and the bar presses the bladder. What is not very known however is why Conklin started nearly three decades later to produce a lever filling pen, instead of sticking with its original and unique crescent filling pen. There are several reason, but mainly people preferred the lever filling pen as it was more safe and it didn't had the "hump" in the middle of the body, where if the user did not lock the crescent, the crescent will accidentally press the bladder when the pen is placed into a pocket or a purse and it will make a true ink mess. Sheaffer was leading brand at the time with the lever filling pen, and was Conklin's arch-nemesis. Therefore Conklin in 1921 started to develop their own lever filling pen, which brings us to this pen here, made around 1924-1926. What we don't know is if Conklin had to purchase the rights to produce lever filling pens, or was the patent for lever filling pens which were already years on the market, free. Whatever the case, in some years they were making more lever filling then crescent filling pens. They called this lever filling system Durograph/Duragraph. However, as soon as the golden time of fountain pens in US was blooming, as with many pen companies at the time, they were crippled by the Great Depression, taken by surprise, the pen sales started to plummet. Even the biggest players had trouble surviving it and many didn't. The Great Depression was a death sentence for many of these pen companies. Conklin did survive it, but started to decline, sold here and there finally closing the production in 1955. It wasn't until recently, c2000 that the brand was revived, starting to produce pens once again, and some very good pens too. In 2009 it passed hands once again to new owners. We wish them best of luck in making wonderful iconic pens as they did when this pen was made.
The pen here is one of the best Conklin's of the time, and arguably even today, made in the peak of their know-how. The quality is amazing, entirely made by hand, and even the chased chevron pattern. The base is hard rubber covered with metal and then thick gold filled. After nearly a century there is no gold ware-off on this pen, nor there will be for the next 100 years. Having this pen here, 90 years later, is what a pen should be, looks as it was made yesterday, and even outperforms most modern pens. These are not the electroplated micro-thin layer of gold, this is a thick layer that does not ware off. The pen is perfectly balanced, with superb form factor, compact when closed and oversize in length at full 164mm when posted. This pen simply rests on the saddle in the hand perfectly and extends as a feather. The lever bladder filler works like new. We have replaced the rubber sac with new one with optimal capacity. The pen feels very solid and heavy. Beautiful chased chevron pattern gives the pen a stunning looks and reflection. There are also long guilloche lines in a group of 5s. A very nice spring mounted clip which opens nicely and widely to be placed on any thickness pocket fabric. It's also meant to be pressed by the thumb like a lever, so it can be easily hanged on a book, or in a pen sleeve. The nib is superb, long, large No.3, even somehow not proportional to the pen due to its size, its very visible nib compared to the pen size. Its a very flexible nib as they use to make them in the early 1900's. I will write any size starting from EF to tipple broad 3B depending on the applied pressure. Nice heart shaped breading hole. The feed is elongated and with deep and wide ink canal to support such a wet pen. The pen is in excellent condition, there are some signs of use, some surface scratches but barely visible. This is truly a remarkable pen in every respect, and a true piece of history.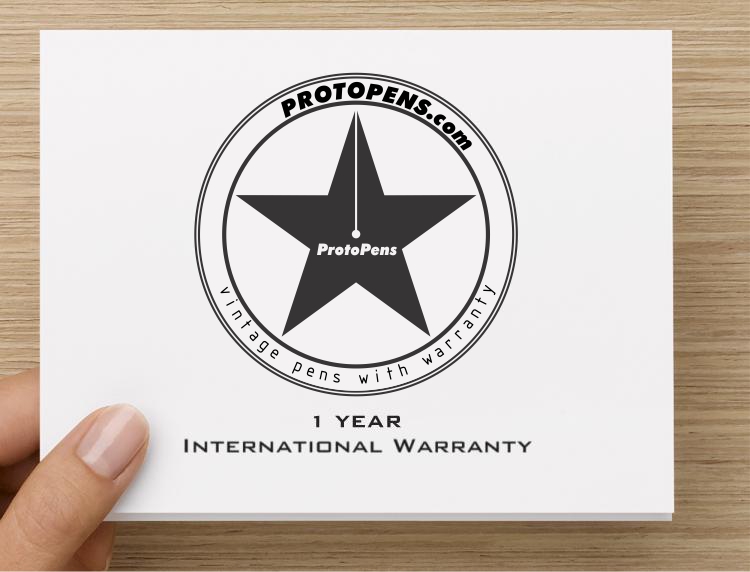 This item is covered by our 1 Year Full International Warranty at no additional cost. The terms of our Warranty are very simple, meant to give you a secure and trouble-free buying experience.
This item is located in Europe and ships Worldwide.
At checkout you can choose between two shipping options:
$8.95 Regular Postal Service, Registered - Limited Tracking 1-4 WEEKS Delivery (Due to the corona crisis, this option is currently available only to several countries)
$29.95 DHL Express International - Accurate Tracking 1-4 DAYS Delivery Worldwide
Learn more about these shipping options.
Prior shipping our items have to pass our highest quality control inspection, are perfectly cleaned and tested by ProtoPens pen staff after which are carefully packed. If the pen does not come in its original manufacturers box, it is packed in a special ProtoPens case.

RETURS: Returns are accepted. You are welcome to ship the item back to us within 7 days after receiving it in the same condition it was delivered to you and we will issue you a full refund! Learn more...
Ask a question about
Stunning 1920s CONKLIN Toledo Chased Chevron 14K Gold Filled Lever Filling EF Gold Flexible Nib Fountain Pen
.
(NOTE: If you don't receive an email from us soon, please check your email spam folder)