Details
Original KAWECO Sport Set

Manufacturer/Model: Pocket size Kaweco Sport V 12 OB & 618/Germany
Year of production: Mid 1950s
Filling system: Fountain Pen Piston filling; Ballpoint metal refills
Nib: Super-fully flexible OB Oblique Broad, writes all special sizes
Material: Both pens made out of thick black resin, high shine and gloss, gold plated trimmings
Length (pen closed): Fountain pen: 98mm closed; Posted at 134mm (full length pen). Ballpoint, 100mm

Condition and information:
This is one of the rarest and most beautiful Kaweco pen sets we've offered. This is the original reincarnation of the 1930 Kaweco Sport, which was not even produced as planned as the technology of the time would not allow it. This Sport model is one of the rarest made in the early 50s and it was made very briefly too. It is the predecessor of the famous V16 model, but unlike that one which has a semi-hooded nib and the then new piston system, this one has a full size nib and also old piston design based on the Helios, Dia and Elite models. Its amazing to see how this pen functions, in such a small body they managed to fit a full size piston filling system, everything in this pen is made to the extreme. Another interesting feature is that the crack preventing ring/band, which on most pens is outside the cap and strait on visible, here that ring is placed under the cap, so it does not interfere with the design. Another difference between this 12 and later 16 model is that this one has a capped turning knob, meaning the knobs cap needs to be unscrewed before the piston knob can be accessed and turned. This is very convenient feature which prevents accidental ink leaks as the piston knob can be turned only very intentionally. Also the matching ballpoint pen, model 618 is the predecessor of the 619 models. Kaweco Sport are one of the most famous Kaweco lines, a true "Sport" mini pocket size pens but not compromising anything a true full size pen offers. Even though the fountain pen is less than 10cm when closed, it becomes a full size pen at 13.5cm when the cap is posted. This is done by the design which allows for a larger cap into which the whole pen can be fitted, but also a engineering ingenuity to make such a small pen to begin with. The build quality is amazing, something rarely seen today, and the 25 year warranty which came with the pens, speaks about that Kaweco quality confidence. Some new pens and even some copycats at that time, took this design from Kaweco, such as the Pilot Elite and others. The pens are made out of black resin the signature Montblanc material, that gives the pen a unique shine, gloss but also protection. This is possibly the best material to make pens from, as it does not scratch easily and always shines. Both pens are 12 sided (dodecagons), thus they perfectly reflect light. All new modern Kaweco Sport models are based on these pens. The fountain pen features an amazing, joyful OB oblique broad nib. Only users that used flexible OB know what such nib is capable of producing, basically anything, any writing style, and type of line, as the writing will change based on the angle at which the pen is held as well as the rotation of the pen in the hand, simply amazing! Piston works perfectly, clear see through ink window. Both pens have gold plated trimmings and gold plated logos located on top of the cap and push button, crisp imprints. The Ballpoint pen has a specially designed Kaweco patented steel micro ball guided mechanism, which is extremely precise, able to deploy and retract the refill with extremely short knob travel while being reliable and easy to use. The pens come in a unique, rarely seen snake skin Kaweco presentation box full with warranty and instructions. They also come in their original brown leather pouch with the original Kaweco badge. Both pens feature a nice company insignia "Messer" a large German company, (one which could afford to buy and brand such expensive pens as these even at that time. This inscription was usually done right there at the Kaweco factory and only to few dozen sets were made, 10-50, intended for the management of the company or larger shareholders). All in all an amazing design and superb quality vintage pens from Kaweco, the original Sport series, pens that will fit in any pocket and always preform perfectly.
About the Kaweco Company:
There were times when Montblanc, Pelikan or other European pen makers, may have look at a Kaweco pen first before making their own. Kaweco at the end of the 19th century and up to the 70's, was one of the biggest manufacturers in Europe, everyone had a Kaweco pen, they stood out from the competition as they made the highest quality and best designed pens at the time. The company was founded in 1883 as "Koch Weber & Co" by the friends Luce Koch and Enßlen Weber in Heidelberger Germany, Koch Weber & CO, thus KA WE CO. They had a great start and up to 1929 they had several thousand employees, with revenue at over a million DM. However, in 1929, the same year Pelikan patented their piston filler, Kaweco filed for bankruptcy. A considerably smaller fountain pen company known as Aurumia, bought the factory, and decided to use the same name old name Kaweco, as it represented superb writing instruments. Since 1920's up to late 1970's, Kaweco made some of the most luxurious pens in Europe, the most expensive and high end pens, extraordinarily build quality. By the late 1940's Kaweco had at least one major retail store in all bigger cities, from London to Istanbul, and this was not the case with any other manufacturer in Europe.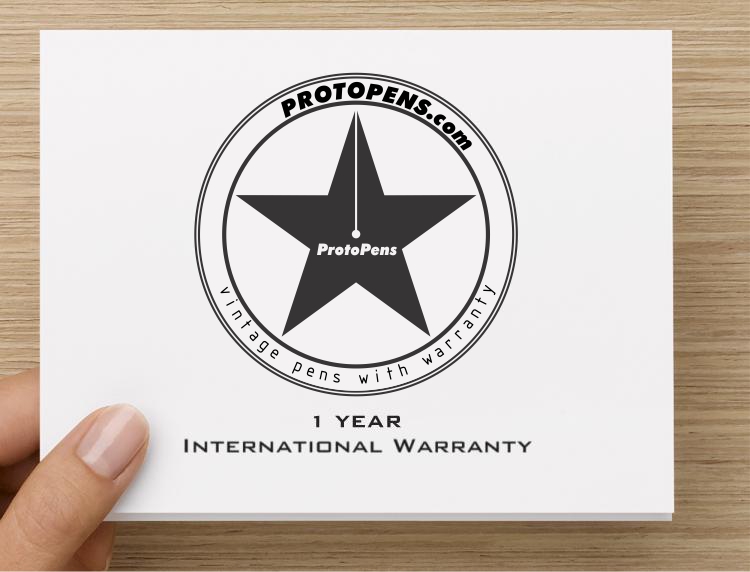 This item is covered by our 1 Year Full International Warranty at no additional cost. The terms of our Warranty are very simple, meant to give you a secure and trouble-free buying experience.
This item is located in Europe and ships Worldwide.
At checkout you can choose between two shipping options:
$8.95 Regular Postal Service, Registered - Limited Tracking 1-4 WEEKS Delivery (Due to the corona crisis, this option is currently available only to several countries)
$34.95 DHL Express International - Accurate Tracking 1-4 DAYS Delivery Worldwide
Learn more about these shipping options.
Prior shipping our items have to pass our highest quality control inspection, are perfectly cleaned and tested by ProtoPens pen staff after which are carefully packed. If the pen does not come in its original manufacturers box, it is packed in a special ProtoPens case.

RETURS: Returns are accepted. You are welcome to ship the item back to us within 7 days after receiving it in the same condition it was delivered to you and we will issue you a full refund! Learn more...
Ask a question about
Stunning NOS New Old Stock Original 1950s 12 Sided Black Resin KAWECO SPORT 12/V12 Flexible OB Oblique Broad & 618 Fountain & Ballpoint Pen Set in Leather Pouch
.
(NOTE: If you don't receive an email from us soon, please check your email spam folder)