Details
MONTBLANC 332 - Type Two

Manufacturer/Model: Montblanc/Germany/332 Inscription on the turning knob cap - Series Two
Year of production: Pen offered here made approximately between 1937 and 1939
Filling system: Standard piston filler, mounted from the front section of the pen. Ebonite piston rod; brass metal spiral. (Two new rubber O-rings installed to replace the original wooden cork and create perfect seal and smooth operation)
Nib: 14K 585 Gold; F Fine Size - Super Flexible writes to 3B - triple broad
Material: High Shine Black Celluloid, Amber yellow/green color ink window; Gold Filled Trimmings
Dimensions: Compact pen; Closed 109mm; Posted at 135; 13mm Cap Diameter; 11.5mm Body Diameter; Nib/Feed size No.4 (4mm diameter)

Condition and information:
This is the third fountain pen we are listing from the Montblanc pens in the Attic Find from several months ago. The first two being the 234 1/2 and the 333 &1/2 You can read more about the Montblanc pens from this Find our Blog post. The find included over 300 pens and from those, more than a dozen were Montblanc pens and pencils from mid 1930s to early 1940s when the Shop closed and these pens were hidden only to be found many decades later. This find was also covered in an article by The Pelikan's Perch, with more emphasis placed on the Pelikan pens in the find, but it gives a good context to the Find in general. You can read the article here: "Treasures In The Attic: A Time Capsule Rediscovered"

The pen offered here is the Type II Montblanc 332. When Montblanc started producing its first piston fillers in 1935, they established the 3xx series and there were many variations on those. It is always a pleasure to find these untouched, untempered with, unrestored and be sure this is the exact pen as it was made and sold then.
As with the previous two Montblanc fountain pens from this find, this pen too was in pristine condition. Like most Montblancs in the find, it had some traces of ink in it, but it had not been heavily used. We only did a slight polish and clean inside out, made sure everything is working and well lubricated. The end result you can see in the photos.
There are several variations on the 332, but they can be generally divided in two types, Type 1 with 1 cap ring and type 2 with two cap rings as this pen here. There are also such pens without any rings at all, and those we call War models due to the restriction on use of metals during WWII. In addition to those there are several other variations to the 332 model. The most obvious difference is the turning knob form and design, while some being more round and with knurling and some being straight with knurling such as this pen here. This is also a good way to date these pens, as this type was made roughly in 1939. There are other variations starting from barrel and cap color, to variations on the ink window, variations on the clip design and even different material nibs, from gold to palladium and even steel nibs in the war time productions. This is also the one of few models from this era that does not have a capped turning knob such as the 234 1/2 and 333 1/2, rather the turning knob is exposed and in full size, making it easier to operate the piston.
This variant was produced some years prior to the war and during the first years of the War, approximately 1937-39. Most notably however for these types of pens is the use of a standard non-telescopic piston mechanism which is mounted from the front end of the barrel by removing the section. This is a robust system but it takes extreme care and knowledge in order to service and remove the piston rod in order to either replace the cork or service the piston. The shaft inside which the piston rod moves is non-removable, permanently attached inside the barrel, and this complicates things. One can only hope the pen cooperates otherwise it can be irreversibly damaged. This is why even if such pen is brand new NOS unused with front mounted piston, unless serviced by a professional, if the cork is dried and shrank, the pen is rendered nonfunctional until the pen is serviced. We took extreme caution and time in order to replace all of the corks on these front mounted pistons and replace them with x2 new rubber O rings, which make the pens fill and work as a charm.
We can only speculate why Montblanc opted for this type of piston even when they had a patent on the Telescopic piston system, we assume it was the cost that prohibited them to place the Telescopic piston in every pen, even in the 3xx series. Looking at this front mounted standard piston system now, it is obvious how they changed/reiterate on the original Pelikan (Mr. Kovacs patent) design, presumably to avoid any IP infringement to Pelikan.

The pen is in absolute mint condition, with no signs of deformations or shrinkage, dents, dings, scratches or cracks. As we mentioned in the Pix 72 PL pencil listing, unlike some other pens in this find, the Montblanc pens showed some signs of use, like ink residue or similar hints, either that being from a lightly used pen to testing or pens brought back for repair, we cannot say for sure, but almost all of them had some ink residue inside them, which would suggest at some point they were filled with ink. We could also see some traces of ink on the original wood corks, which is the best indicator if a pen had been used, as no matter how good the pen is cleaned the wood cork will instantly absorb some ink if it comes in contact with. Regardless, all of the pens including this one were in pristine condition, seemed barely used, and that is still evident today. Cap rings are in perfect condition, the clip too with no brassing or gold wear off. The only part we have replaced on the pen was its original wood cork, and replaced it with a perfect size-to-barrel match two rubber O-rings which make the pen fill and operate even better. The O-rings create a perfect seal with the inner barrel, providing for a smoother and safer piston movement, and do not require the occasional filling and maintenance wood corks do, besides that the rubber O-rings do not make squeaking noises as some dried wood corks can.

The pen is a master writer with a very nice and precise F fine nib. By today's standards we would easily rate this nib as EF, however EF nibs in the 1930s were basically a needle sharp at the tip. The nib is size 4 which perfectly fits the form factor this compact pen has. It is slim but elongated providing a nice writing space, suspended over its original "ski slope" ebonite feed. As most of the nibs from this era were super flexible, this one is no exception, it melts on the paper as soon as it touches it, and with a slight pressure it will produce anything up to 3B or tipple broad as the feed features a nice wide ink canal. The pen will write lines more than 2mm wide on the down strokes. Depending on the way it's held, fast side strokes can be thin, and using the flex can add to the variation. Basically there is no line this pen cannot produce; some of the best writing one could hope to achieve with a fountain pen. Since the ebonite feed is large and with a wide ink canal, it will feed this hungry nib without interruption, providing steady ink flow.
Even though more compact than other pens when closed, it is a perfectly balanced pen when posted, perfect form factor, perfect feel and writing experience, perfect appeal and quality. There is nothing like these old celluloid Montblanc pens. The build quality is amazing with stunning depth of amber an black color celluloid colors, immense attention to detail but also a "form follows function" design embodied by the Bauhaus movement. These pens are also often referred to as "The Officer's Pens" as presumably many of the German officers had these 3xx models on them. Apparently these models were the first choice for many of the German officers due to their reliability and design. Not surprisingly then we find them in this shop exactly in the years we suspect the shop closed. This was the time when Yugoslavia was under the German occupation but many of the shops still operated. Hence it is very likely that even German officers were customers in this shop, buying Pelikans, Matadors, Kawecos and what not, since most of the brands in the Find were German made. Then it is not hard to imagine how German officers would trade their Montblanc pens for other pens the shop had to offer.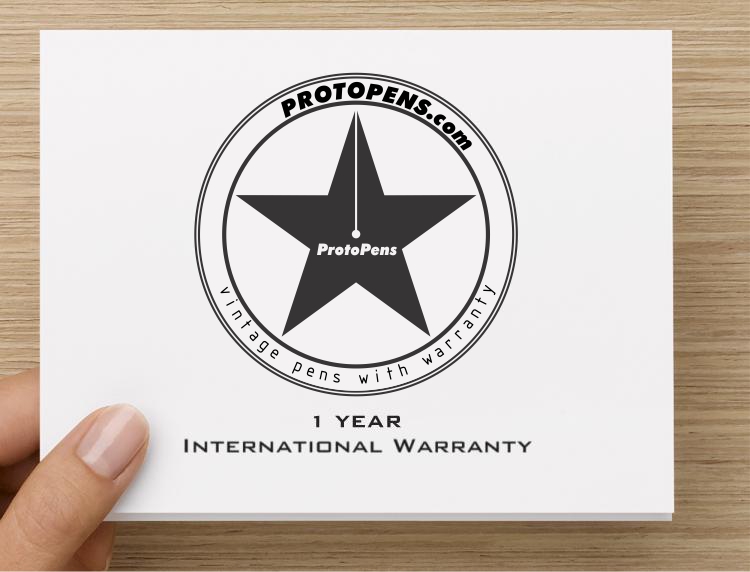 This item is covered by our 1 Year Full International Warranty at no additional cost. The terms of our Warranty are very simple, meant to give you a secure and trouble-free buying experience.
This item is located in Europe and ships Worldwide.
At checkout you can choose between two shipping options:
$8.95 Regular Postal Service, Priority & Registered Airmail - Limited Tracking 1-4 WEEKS Delivery
$38.95 DHL Express International - Accurate Tracking 1-4 DAYS Delivery Worldwide
Learn more about these shipping options.
Prior shipping our items have to pass our highest quality control inspection, are perfectly cleaned and tested by ProtoPens pen staff after which are carefully packed. If the pen does not come in its original manufacturers box, it is packed in a special ProtoPens case.

RETURS: Returns are accepted. You are welcome to ship the item back to us within 7 days after receiving it in the same condition it was delivered to you and we will issue you a full refund! Learn more...
Ask a question about
1937-1939 MONTBLANC 332 Amber & Black Celluloid Piston Filler F to 3B Super Flexible 14C Gold Nib Compact Fountain Pen From an Amazing 80 Years Lost Attic Find
.
(NOTE: If you don't receive an email from us soon, please check your email spam folder)