Details
KAWECO No. 37 / 37G

Manufacturer/Model: Kaweco 37 /Germany
Year of production: Early 1960's
Filling system: Piston filling, extremely large tank stores a lot of ink
Nib: EF Solid 14K 585 gold, will write F and M
Material: Black resin, highest shine and gloss plastic, gold plated trimmings
Length (pen closed): Oversize at 135mm, posted at 155mm!

Condition and information:
The pen offered here is the flagship Kaweco pen at the time, to rival Montblanc's Masterpiece's models. It's also one of the biggest Kaweco pens made in the early 1960's, its oversized at 135mm and posted at 155mm. Together with the design which is quite out of the ordinary, with two separate body widths, give the pen extraordinary grip, handling, balance and feel in the hand. The build quality is astonishing, its entirely made out of black resin, the signature material of Montblanc, that gives the pen a unique shine. This is the best material to make pens from, as it does not scratch easily and always shines. The pen is absolute mint condition, no scratches, no cracks or marks of any kind, 100% originally preserved. The nib is extra large and elongated, bigger then Montblanc's 144, 146, 342 and most models of the same era, and it's has some flexibility, thus it will write F or M if pressed harder. Very smooth non-scratchy writer at any stroke, even the odd ones. All trimmings are gold plated. Piston works perfectly, smooth and easy and takes an enormous amount of ink, so once filled it will last for a month or more. The pen is simple and efficient, practical, well balanced, with superb form factor, astonishing nib, and very reliable and easy to handle, with unique design and appeal, simply one of the best Kaweco pens all time!


Kaweco history: There were times when Montblanc, Pelikan or other European pen makers, would look at a Kaweco pen first before making their own. Kaweco at the end of the 19th century and up to the 60's, was one of the biggest pen manufacturers in Europe, everyone had a Kaweco pen, they stood out from the competition as they made the highest quality and best designed pens at the time. The company was founded in 1883 by two friends Luce Koch and Enßlen Weber in Heidelberger Germany, as Koch Weber & CO, thus KA WE CO. They had a great start and up to 1929 they had several thousand employees, with revenue at over a million DM. However, in 1929, the same year Pelikan patented their piston filler, Kaweco filed for bankruptcy, unbelievably as they could not sustain their enormous growth. A considerably smaller fountain pen company known as Aurumia, bought the Kaweco factory, and decided to use the same name, Kaweco, as it was well known and admired by the people. Thus Kaweco thrived once again. By the end of the 40's Kaweco had at least one major retail store in all bigger cities, from London to Istanbul, and this was not the case with any other manufacturer in Europe. Kaweco made some of the most luxurious pens in Europe, the most expensive and high end pens, with extraordinarily build quality. Vintage Kaweco pens are some of the most desired and enjoyed among pen collectors.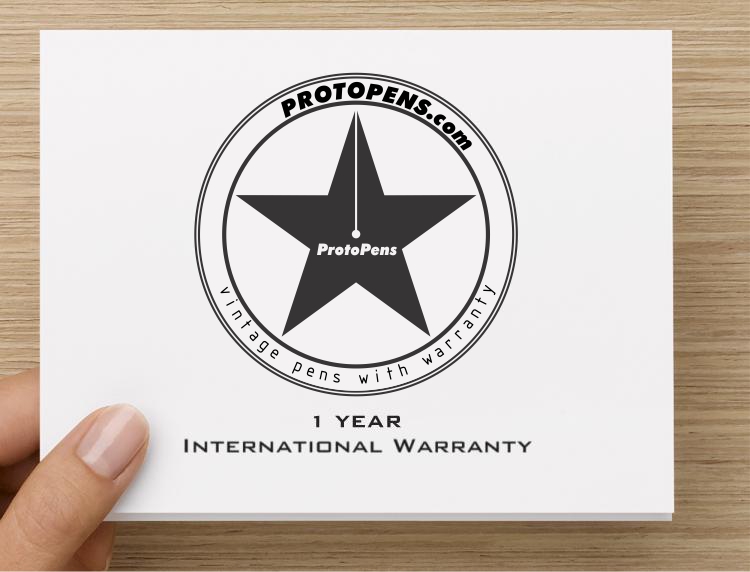 This item is covered by our 1 Year Full International Warranty at no additional cost. The terms of our Warranty are very simple, meant to give you a secure and trouble-free buying experience.
This item is located in U.S. and ships to U.S. only. We provide FREE shipping via UPS expedited 2-3 business days delivery if your cart's value is over $50 and only $5.99 if its below $50.

Prior shipping our items have to pass our highest quality control inspection, are perfectly cleaned and tested by UberPens master pen staff after which are carefully packed and sealed as shown in the pictures below. If the pen does not come in its original manufacturers box, it is packed in a special UberPens case together with a free microfiber cloth, perfect for cleaning and polishing your pens. Learn more about our shipping methods.
RETURNS: Returns are accepted. You are welcome to ship the item back to us within 5 days after receiving it in the same condition it was delivered to you and we will issue you a full refund! Learn more…
Ask a question about
1960's KAWECO 37G / 37 Oversize Black Resin Masterpiece Semi Flex 14K Gold Nib EF Fountain Pen
.
(NOTE: If you don't receive an email from us soon, please check your email spam folder)