Details
KAWECO V101 Set
Manufacturer/Model: Kaweco V101/Germany
Year of production: Mid 1960s
Filling system: FP: Piston filling; BP: Slim Metal Refills - Original & New One Included
Nib: Semi hooded F Fine 14K 585 gold, Super Soft Nib - Flexes but tines stay together - Line variation up to B Broad
Material: Black resin, high shine and gloss, Rolled gold cap and BPs upper body
Length (pen closed): FP: 132mm, posted 152mm; BP: 129mm

Condition and information:
The pen set offered here is the highest class Kaweco pen at the time, to rival or even surpass Montblanc's Masterpiece models as well as any other European pen manufacturer. It is a super rare variant of the V line, rarely seen as it was produced in extremely limited numbers, and only few are left to enjoy today. This is an original set as sold at the time, the V101 fountain pen and ballpoint pen set. We even believe that these pens were possibly even not offered in regular shops, rather from a catalogue or special order. Kaweco at this time did not made many rolled gold versions of their models, and this is probably the only model they made from this decade. The design of the V line is unique, with two separate body widths, giving the pen great grip, handling, balance and feel in the hand. Most astonishingly however is the look and how far ahead of its time these pens were, it is hard to believe this pen was designed 70 years ago, it still looks modern, sleek and sharp. The build quality is astonishing, the pens are made out of black resin, giving a unique shine and gloss. The cap of the fountain pen and the upper body of the ballpoint pen are solid metal finished in rolled gold, with a nice guilloche group of 4 lines and thick gold plated clips. The pen design, overall look and feel is amazing. The design incorporates the modern 60s era, what we refer to as Space Era inspired, with sharp modern edges and clean forms. A unique feature is also the crack preventing ring on the turning knob. In these Kaweco models, "V" stands for hooded nib, and if there is a "P", that stands for cartridge and the "S" stands for steel cap. However the V101 being in a class of its own, it is the only one with three digit designation, and one would think 101 is not a coincidence, rather a statement. These were the flagship pens of this line and though similar to the Kaweco 36 & 37 models, which did not come in rolled gold. The nib is a story of its own, one of the more rare types of nibs we get to see. It is a super soft nib, meaning the nib flexes excessively but since it is a flat face nib, the tines do not come apart so easily. This makes the nib feel super soft, as there was a shock absorber under the hand, and yet producing the same Fine line. If it were to be pressed more, the tines start to split apart and the nib will write bigger sizes especially on the down strokes - up to B broad. It is truly a rare and unique experience using this nib a true joy to write with. The piston works easy and takes good amount of ink, so once filled it will last for a month or more depending on how often its used. Silicone cork ensures no leakage. Kaweco logo located on top of both pens as well as crisp engraving on the cap and upper body "Kaweco - MADE IN GERMANY" Clean piston inside out, super smooth operation and feel. Since the pen is considerably heavier with the cap posted, its recommended to be used in such fashion, even though it feels perfectly nice not posted too. The ballpoint pen an upper body push action, superb build quality with solid brass components. The set is in absolute mint NOS condition, there are no cosmetic or functional defects whatsoever, 100% originally preserved and comes in its original box which has some discoloration on the inside. The pens are simply astonishing, reliable and easy to use, with unique design and appeal, simply one of the best Kaweco pens all time.

Kaweco history: There were times when Montblanc, Pelikan or other European pen makers, would look at a Kaweco pen first before making their own. Kaweco at the end of the 19th century and up to the 60s, was one of the biggest pen manufacturers in Europe, everyone had a Kaweco pen, they stood out from the competition as they made the highest quality and best designed pens at the time. The company was founded in 1883 by two friends Luce Koch and Enßlen Weber in Heidelberger Germany, as Koch Weber & CO, thus KA WE CO. They had a great start and up to 1929 they had several thousand employees, with revenue at over a million DM. However, in 1929, the same year Pelikan patented their piston filler. A considerably smaller fountain pen company known as Aurumia, bought the Kaweco factory, and decided to use the same name, Kaweco, as it was well known and admired by the people. Thus Kaweco thrived once again. By the end of the 40s Kaweco had at least one major retail store in all bigger cities, from London to Istanbul, and this was not the case with any other manufacturer in Europe. Kaweco made some of the most luxurious pens in Europe, the most expensive and high end pens, with extraordinarily build quality. Vintage Kaweco pens are some of the most desired and enjoyed among pen collectors.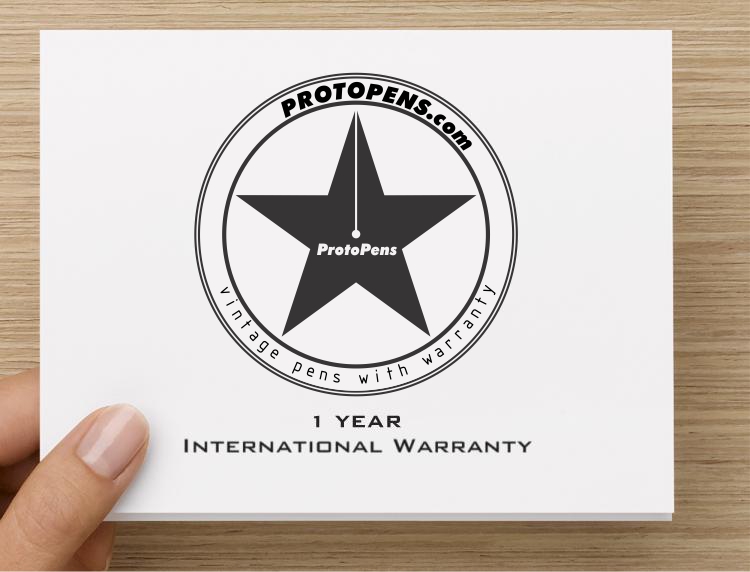 This item is covered by our 1 Year Full International Warranty at no additional cost. The terms of our Warranty are very simple, meant to give you a secure and trouble-free buying experience.
This item is located in Europe and ships Worldwide.
At checkout you can choose between two shipping options:
$8.95 Regular Postal Service, Registered - Limited Tracking 1-4 WEEKS Delivery (Due to the corona crisis, this option is currently available only to several countries)
$34.95 DHL Express International - Accurate Tracking 1-4 DAYS Delivery Worldwide
Learn more about these shipping options.
Prior shipping our items have to pass our highest quality control inspection, are perfectly cleaned and tested by ProtoPens pen staff after which are carefully packed. If the pen does not come in its original manufacturers box, it is packed in a special ProtoPens case.

RETURS: Returns are accepted. You are welcome to ship the item back to us within 7 days after receiving it in the same condition it was delivered to you and we will issue you a full refund! Learn more...
Ask a question about
Amazing 1960s KAWECO V101 F Flagship Masterpiece Black Resin & Rolled Gold 14K Soft Nib Fountain & Ballpoint Pen in Box
.
(NOTE: If you don't receive an email from us soon, please check your email spam folder)