Details
Waterman Sérénité


Manufacturer/Model: Waterman/Sérénité/Paris France
Year of production: 1999 to 2010; Pen here in mid 2000s
Filling system: Waterman Rollerball or Ballpoint pen refills - Original refills as well as new refills included
Material: Body & Cap: Lacquered Metal/steel, Deep Midnight (Blue-Violet-Purple) Metallic Finish; Clip, Front Tip & Grip Section Solid 925 Sterling Silver
Length (pen closed): Oversize pen, Closed 144mm; Posted 161mm! Extremely heavy pen 52.5gr
Condition and information:
One of the most amazing pens ever made, and easily one of our favorite pens ever! And simply put, the Waterman

Serenite

may just be The most beautiful pen ever made. The Waterman

Serenite

is difficult to describe, its unlike any other pen out there. At first glance it seems as its simply curved, but once held and used, this asymmetric shape gives a complete new meaning to a pen; one starts to wonder why there are not more asymmetric and curved pens such as this Waterman; it feels so natural and so sublime as its just meant to write, be held as it just belongs in the space of the hand. There are octagonal, triangular, circular and many other shapes out there, however one thing they all have in common is that they are all strait, this one is not!

So what is this from factor?
Is it a Samurai's

Katana

sword, is it a tied up papyrus scroll, or maybe a bent bamboo tree, or simply an old feather quill pen, or as Waterman puts it, a "Shape blown by by the wind, that resists to fall and still stands upright"? We would say, its all of those things and much more. The

Serenite

was launched in 1999, and continued production till 2010. There were several variations. The pen here is considered a second generation when compared to the original acrylic black model, as that one had a plastic body and a slip on cap, as opposed to this metal and silver version which is much much heavier and also has a thread on cap. Even to us being in this business for nearly 2 decades, its difficult to grasp the ingenuity and craftsmanship that went into making this pen. Pretty much every part on this pen aside the section and tip are asymmetric, even the clip and the clip holder are asymmetric. The detail of work, the precision are of the utmost quality and craftsmanship, everything on this pen is second to none. We have difficulty understanding how can a barrel and cap be made in this shape, when it seems as they are not cast. The pen is extremely heavy, over 52gr., that puts it in a super heavy category out there, and when holding it, it really feels as holding an instrument which is more than a pen, it gets another meaning completely. Most importantly, the curvature is mean to just lie/rest/bend over the hand. Even if the pen is rotated in a different direction, it will naturally always take that position, curving over the hand, posted or not. The pen has several cool details worth mentioning:
- The clip and clip holder are asymmetric and made out of silver
- The clip is spring loaded and its suspended inside the clip holder as a lever, so one can press the back side of the clip, and the clip will rise/open
- The pen can stand upright in any position, cap down; barrel down, or even upright when posted
- Instead of the front tip unscrewing, the sterling silver grip section rotates and it pushes the sterling silver tip of the pen upwards. This is done in order not to have the refill and collar rotating inside the barrel, rather the section rotates, i.e. the inside thread is the one that rotates, quite ingenious design
- The small Waterman inlaid plate on the top of the barrel is also silver, and it serves as a slot for the clip, so to make the posting easy, precise and it serves as a resting place for the clip as not to damage the barrel edge when the cap is posted
- The inlaid circular button/plate inside the back of the barrel is also silver. This is where the serial number of the pen is imprinted and its believed to be the number of the pen made in this series, in this case this pen would be No. 3142
- The cap has a single thread/spiral, meaning no matter the starting point when closing the cap and screwing it on, the cap will always be fully closed only in one position, that is the cap and body will align to make the

Serenite

curve
- The pen can use both

rollerball

and ballpoint pen refills, as it was originally sold with both, but it can also use the correct size

fineliner

refills

This pen is so unique and amazing, we just hope to see more of it in the future, possibly a new version by Waterman. These were discontinued in 2010, and had several iterations before that, especially some limited edition like

Maki

-E. The pen here comes in deep blue with touches of purple and even violet color, difficult to capture on photos. Comes in its original box, refills, papers and warranty (Waterman was offering Lifetime warranty to this pen), as well as its original microfiber cloth. the pen hasn't been used, it was only exhibited as a display unit, it shows some minor scuffs, but no scratches or dents or any other cosmetic or functional issues, comes in nearly NOS condition, ready to be used and admired!

Few excerpts from Waterman's brochure inside the box:
- Surpassing convention, the

Serenite

pen draws on the forces of nature to release its own energy. It shows us the world in a new light, in a moment of endless plentitude, a moment of

Serenite

.
- Witness with

Serenite

an amazing balance of all that is pure and original. It will stand upright, cap on or off - something no one else has dared try. Its curve mocks the elements bowing in the wind, only to come back standing.
- The brilliance of the silver is offset by the deep blue lacquer. One's gaze is lost between day and night, between sparkle and darkness.
- The lacquer blends subtly with the curves of the pen and its offset by ever-changing reflections of blue.
- The solid silver clip stretches out... there is only one position for the pen with its cap on and only one with its cap off.
- As it glides, the solid silver tip makes writing sheer, indescribable

pleasure.
- If writing is an art,

Serenite

makes is pure and

sacred.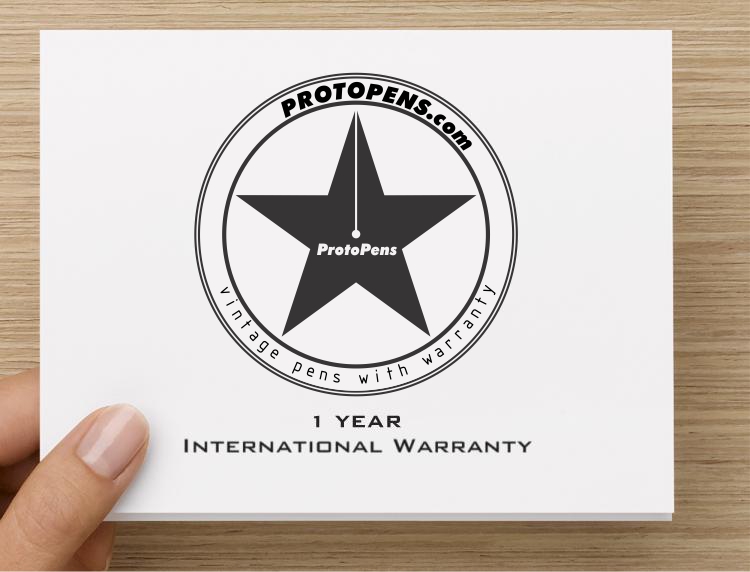 This item is covered by our 1 Year Full International Warranty at no additional cost. The terms of our Warranty are very simple, meant to give you a secure and trouble-free buying experience.
This item is located in Europe and ships Worldwide.
At checkout you can choose between two shipping options:
$8.95 Regular Postal Service, Priority & Registered Airmail - Limited Tracking 1-4 WEEKS Delivery
$38.95 DHL Express International - Accurate Tracking 1-4 DAYS Delivery Worldwide
Learn more about these shipping options.
Prior shipping our items have to pass our highest quality control inspection, are perfectly cleaned and tested by ProtoPens pen staff after which are carefully packed. If the pen does not come in its original manufacturers box, it is packed in a special ProtoPens case.

RETURS: Returns are accepted. You are welcome to ship the item back to us within 7 days after receiving it in the same condition it was delivered to you and we will issue you a full refund! Learn more...
Ask a question about
Amazing NOS 2000s WATERMAN Serenite/Sérénité/Serenity Metallic Lacquered Midnight Blue & 925 Sterling Silver Rollerball / Ballpoint Pen in Box
.
(NOTE: If you don't receive an email from us soon, please check your email spam folder)
This item is bit over of what you would like to pay? No problem, we got you covered! Here you can send us your Best Offer. We will review your Offer and if we accept it, we'll email you a Discount Coupon which you can use at checkout. In case you don't receive email from us within 24h, please check your email's spam folder. We may also send you email with our Counter Offer. Please note that if the item sells while we review your offer, the item will no longer be available for sale unless there are more than 1 of same item. Thank you and we are looking forward to your offer!
Send your best offer for
Amazing NOS 2000s WATERMAN Serenite/Sérénité/Serenity Metallic Lacquered Midnight Blue & 925 Sterling Silver Rollerball / Ballpoint Pen in Box
.
(NOTE: If you don't receive an email from us soon, please check your email spam folder)