Details
KAWECO DIA 85 EF
Manufacturer/Model: Kaweco DIA 85 EF/Germany
Year of production: 1934-1939
Filling system: Piston filling (Never used with its original cork)
Nib: Fully flexible EF Solid 14K 585 gold, writes all sizes up to 3B and wider with little to no pressure
Material: High shine and gloss celluloid; Cap band rings, top cap logo and clip gold filled
Length (pen closed): 125mm; Posted at 146mm
Condition and information:
We are very proud to offer this extremely rare find, a time capsule pen that was stored-hidden for nearly 80 years together with several dozen other pens.
Since the early 1930s, Kaweco had three pen lines. The first one was the Elite, followed by the DIA, and the third was the Helios Transparent line, each was special in its own way. The pen offered here is the DIA line (name possibly coming from the Greek prefix Dia, which means "going through", "in between", "middle" but also "thorough" or "complete"), which in fact the Kaweco Dia line was, in-between the Elite and the Helios. The DIA had every special feature the flagship Elite line had, however the Elite line was distinguished by its ornamentation, decorations and post production textures, usually gold filled sleeves or similar overlays. However the DIA and Elite had the same build quality and functionalities.
The pen has that beautiful and classic original 1930s form factor, which amazingly still looks modern today. Even in the era when this pen was made, most pens had a tendency toward more rounded form factors that persisted for decades. However it was only in the 60s and the "Space Era" that pens started to get this more sharp look that persists to this day on many pen designs. Hence, one could say that Kaweco were ahead of their time, and they certainly were in both design and function.
The build quality is amazing. In the late 1930s all Kaweco pens were sold with a minimum of 10 years warranty (as was this pen here), but many Kaweco pens were sold with 25 and even lifetime warranty. The pen is made out of celluloid with high shine and gloss and that nice worm grip and feeling which can be only felt from a celluloid pen. The pen just feels right in the hand. In the last photo we show a page from a Bulgarian Kaweco catalog from the 1930s, where Kaweco was extremely popular. The ad shows all Kaweco DIA models from 83 to 90, (black version), however one can see that not necessarily the higher number means a larger pen. Basically each model number has its own different size and thickness, and especially different size and form at the grip section, not just length-wise, so it will fit every hand comfortably. This again proves how far ahead of its time Kaweco was, something which pen manufacturers do not do even today. For example, the models 85, 87 and 89 are almost identical in length but have different grip/section size and are just slightly different in thickness if any at all.

The pen has the original piston filling system with its original cork, and had never been used. The Kaweco pistons at the time had very elegant technical solutions, also ahead of the competition. It was the first piston to have a square cross-section piston shaft, which meant that the piston did not rely on the friction of the cork with the inner body in order to move up and down, it was independent of that action. It also has a blind cap at the top of the turning knob, which is also mentioned in that ad, where it says the blind cap will prevent accidental turning of the piston knob, thus preventing ink spills.
The nib is a soft masterpiece as only those old nibs can be. Paper thin, needle sharp EF fully paint brush flexible. With little to no pressure will write all bigger sizes, F, M, B, BB and 3B. Kaweco made some of the best flexible nibs as they were the first company in Europe to import the golden nib know-how from New York via one of the first and greatest gold nib manufacturers in US, the A. Morton & Co, which Kaweco have outright purchased and brought to Heidelberg in the early 1910s, together with many of its staff and machinery. Since the nib had never been used, it will shape itself and adapt to the new user in time. We have not filled the pen with ink in order to keep the original cork clean, but we have dipped the pen and it performs marvelously. The pen comes in NOS, never used condition, and here is how...



CHAPTER II
Some info about the actual special history of this pen that we believe is worth sharing.

Before WWII, several countries that made up Yugoslavia in 1945, were as most of Europe, free trading, free market economy countries. Naturally Kaweco, as well as many other European brands were also present. From the large pen manufacturers, Kaweco was especially present in the Eastern European countries before WWII. This was primarily because Kaweco was one of the largest if not the largest pen manufacturer in Europe at the time, but they also had a very substantial market penetration policy, which meant that they either had to have a store, or had an official Kaweco representation in some third party store, in many major and often smaller size second-tier cities and towns across Europe.
The city of Bitola is a small but very old town with a nice classical architecture as many European cities, located in south North Macedonia. It was always thriving economically and it was the lure for many companies and even consulates and embassies for many European countries, that's why it is called "The City of Consuls". On its beautiful and vibrant main street, there were many many shops, including some for luxury goods from all over the world and Europe. One of those shops selling exclusive items for the well-off people and the aristocracy was where this pen was sold. The shop sold a variety of things, from lamps, clocks, watches, pens to toys and many other things. It was operating right until before the end of WWII. Couple of the last photos show the street where this shop was located, one photo is from 1920-30, the second is 1960-70.
Most of these shops stayed open even when the city and most of the Balkans were under German occupation, and these shops were still in private ownership. Besides the local citizens, German officers were often also their customers too, and especially happy when they could purchase German made products such as this Kaweco pen. However right after the end of the war and the new socialist constitution of Yugoslavia, the private ownership of stores and companies was ceased and many companies restructured as national companies. Much of those luxury goods were confiscated and often together with the shops and the houses themselves. Many of these shops and their owners that had inventory in expensive foreign goods, rushed to hide it, sell it or even export it if they could before the wave of confiscation reached them. The ones that could salvage something did in any way possible, most did not however, and some rightfully believing in the new system even voluntarily gave their merchandise to the people, and started their life all over in the new system. This is why, even to this day many descendants of those generations often find hidden items in their old houses when they renovate or in similar circumstances.

Which brings us to this pen...
Nobody knows all of the actual circumstances, but this is what we were told by the nephew of the old store owner who had these pens sold in his shop before the end of WWII. One afternoon earlier this year (2020), the nephew of the original store owner decided that, that very old massive oak wood wardrobe he had laying around in his basement for years, would be a good wood source for a bird house his daughter wanted him to build in their yard, and possibly some other while corona-country-on-lock-down-stay-at-home projects. After starting to disassemble the massive doors of this wardrobe, he noticed something hidden inside the actual thick doors of the wardrobe. To his surprise, he started pulling out many pens all wrapped in their ordinal "tracing like paper" as well as many watches. To his astonishment, he managed to pull out 32 pens and several dozen wristwatches.
He soon connected with us, and we were able to confirm and truly admire this nearly 80 years old time capsule find and confirm that all of these were Kaweco Dia and Kaweco Helios pens and just one Melbi Transparent pen. From the family history he was able to share with us, he told us that apparently most of the merchandise his grandfather had in his shop was quickly confiscated after the end of the war. His grandfather apparently hid these Kaweco pens and the watches in the door of that massive wardrobe and sealed it again, and as years passed by forgot about them, and when he passed away many years ago, nobody knew about these hidden items. We often hear about how these people forgot what they have hidden and we often wonder why. The most probable explanation is that all that stress, and that sudden and complete change of life, society and culture had such an impact on these people, that they may very well even wanted to forget the past. Many had to start their life all over again in a new system, and even if they would to resurface such items again, it would be difficult to explain where they got them from, and they could still not sell them. So many such imported goods stayed hidden for decades and some still are. In this case, luckily the descendants and rightful owners found them and we were able to purchase all of them. When we made the deal, we both had a deep sense of respect and admiration for his grandfather who hid them, who even after decades of his passing, was able to financially contribute to his family, especially in these times when many people had either lost their job or have difficult time going through all of this, including his family.

It is also worth noting that we are often sold such never used pens, pens dating before WWII, from all over eastern European countries which had communist order up until the late 1980s. Unfortunately until the pens reach us the story is lost as the pens probably pass one or two hands. At least the bright side after all is that many such pens are often found, often by their rightful descendants, so we can now all admire and enjoy those writing masterpieces as they were almost a century ago.

However we often see many unique old pens without their nibs, and we know that on many of those pens the nibs had been taken out in order to sell them as gold, and often the pens completely trashed and thrown away; that is we sometimes find only the nibs in a jewelry store. This was because even that small amount of gold in the nib could be sold at a jewelry store and melted to make jewelry, which could not be traced. When we see such pens without nibs we tell the owners that some pens are worth more than their weight in actual gold, since they are so rare and unique.
We are very proud to have these Kaweco pens now, and we are going to offer several of them for sale. There are some very special pens with some amazing nibs in all sizes, a true wonder of nibs. We will continue to list several of those pens in the coming weeks. All of them were packed only in the original "tracing like" paper in which they were originally sold, including some that had a paper price band under the clip, as this pen has. We know from past experience that all of these Kaweco pens came also in a small carton box from the Kaweco factory in Germany, but we believe the store owner discarded those boxes in order to save space in that wardrobe door. All of these pens had never been used and are perfectly functional. Most of the Helios pens have their celluloid caps deformed, simply caused by the passage of time, but those will not be offered for sale. We are only lubricating the pistons with silicone grease and making sure the piston is airtight, thus keeping the original cork which is still functional, even though it can be replaced with rubber O rings. Since the piston functions perfectly, we believe leaving the original cork is the right thing to do, as we are sure the cork will work flawlessly for years if not decades.
And finally, this also supports our experience and theory that Kaweco was everywhere in Europe and even eastern Europe before WWII. Why didn't this person had any Pelikan, Montblanc or other brand pens in his shop? Most of these Kaweco pens were even more expensive than many Pelikan or Montblanc pens at the time. If these brands were in his store, we are sure they would also be in that wardrobe door. Last two photos show the dismantled wardrobe door in which they were hidden right before the nephew took them out, as well as the box when he brought them to our office before we even touched them.

We hope you enjoyed this amazing story as much as we do!

More about Kaweco History:
These were the times when many of the European pen makers would look at a Kaweco pen first before making their own. Kaweco was in the 1920s one of the biggest pen manufacturers in Europe and they stood out from the competition as they made some of the highest quality and some of the most technologically advanced pens at the time. The company was founded in 1883 in Heidelberg Germany. From 1899 the new owners were Heinrich Koch and Rudolph Weber, thus the name KA-WE-CO, CO for Company. They had a great start and in 1922 they had more than a thousand employees. However, in 1929, the same year Pelikan patented their piston filler, Kaweco filed for bankruptcy, arguably as they could not sustain their enormous growth and possibly also related to the great financial crisis of the late 1920s. A considerably smaller fountain pen company known as Aurumia, bought the Kaweco factory, and decided to use the same name, Kaweco, as it was well known and admired by the people. Thus Kaweco thrived once again. By the end of the 40s Kaweco had many retail stores in many cities, from London to Istanbul, and this was not the case with many other manufacturers in Europe. Kaweco made some of the best pens in Europe, high-end pens with extraordinarily build quality. Vintage Kaweco pens are some of the most desired and enjoyed among pen users and collectors, including us. As many other brands, Kaweco too did not survive the carnage that the ballpoint pen did to this industry, so it filed for bankruptcy in the 80s. However, the brand was purchased by the Gutberlet family and company bearing the same name in the mid 1990, and the brand was revived. Today Kaweco continues to make great pens with the original Kaweco DNA sprinkled all over their current product lines.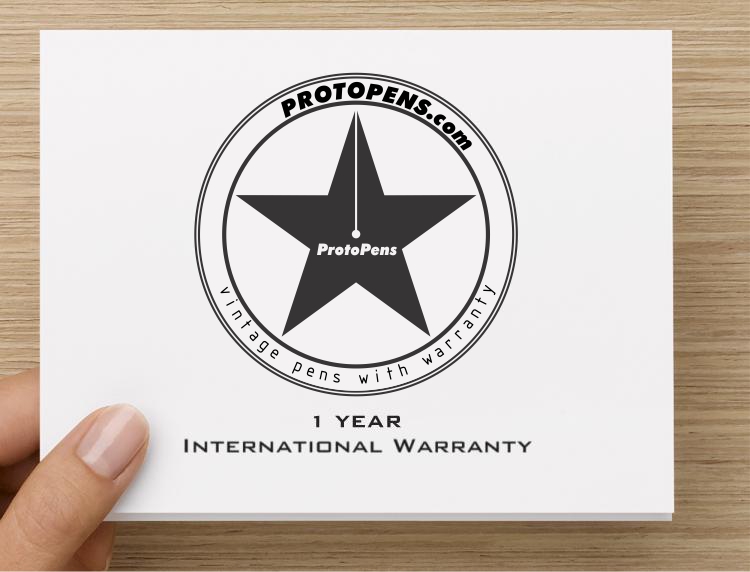 This item is covered by our 1 Year Full International Warranty at no additional cost. The terms of our Warranty are very simple, meant to give you a secure and trouble-free buying experience.
This item is located in Europe and ships Worldwide.
At checkout you can choose between two shipping options:
$8.95 Regular Postal Service, Priority & Registered Airmail - Limited Tracking 1-4 WEEKS Delivery
$38.95 DHL Express International - Accurate Tracking 1-4 DAYS Delivery Worldwide
Learn more about these shipping options.
Prior shipping our items have to pass our highest quality control inspection, are perfectly cleaned and tested by ProtoPens pen staff after which are carefully packed. If the pen does not come in its original manufacturers box, it is packed in a special ProtoPens case.

RETURS: Returns are accepted. You are welcome to ship the item back to us within 7 days after receiving it in the same condition it was delivered to you and we will issue you a full refund! Learn more...
Ask a question about
Classic Original 1930s NOS Celluloid KAWECO DIA 85 EF Extra Fine Fully Flexible EF to 3B 14K Nib Piston Fountain Pen with an Amazing Story!
.
(NOTE: If you don't receive an email from us soon, please check your email spam folder)