Details
Pelikan 140

Manufacturer/Model: Pelikan Gunther Wagner No.140/Germany
Year of production: Late 1950's to early 1960's
Filling system: Piston Filling
Nib: F Fine size, 14K 585 Solid Gold; Flexible Nib - writes all sizes up to Double Broad BB
Material: Celluloid Tortoise Green Striped Barrel, Gold Plated Metal Parts (clip & cap ring)
Length (pen closed): 124mm, Posted at 145

You can see a video of this type of pen in action here:
https://www.youtube.com/watch?v=ODrJHu8vU34

Condition and information:
The most famous Pelikan pen, the model 140 in tortoise green, here offered in an extremely rare form, simply never used time capsule, pen never dipped in ink. Since the 140 was a widely used model, and relatively affordable to all at the time, these pens were true everyday workhorses, this is why they are very difficult to find in their original never used condition, as they were basically bought to be used. This pen is special, as it gives us a rare opportunity to examine one that had never been used.

One of the features some of these 140 models have but people are usually not aware of is the interlocking cap safety rind that prevents the cap accidental unscrewing. Actually many of the 140s have this feature but as time passes and pens are getting used, this ring loses its flexibility and does not perform its function correctly. This feature works as to when the user screws the cap on, right toward the end on the last 1/4 rotation, there will be a resistance felt as the lip of the grip section comes against this ring. Then with just a tiny bit more rotational force, the lip overcomes this narrower opening this ring creates, passes through it and screws on completely to the end. The feeling the user experiences is as the pen has "jumped over" an obstacle within the cap. This "obstacle" is that oval/ellipse shaped ring and in order for the pen to pass it, the tip of the section has to widen this ring a bit and move through it. Then when the cap is unscrewed it will also need to widen that ring in order to pass through it on the way back. This is simply a design feature that prevents an accidental unscrewing, as even if the pen's cap starts to unscrew by accident let's say in a jacket pocket, it will stop unscrewing at this ring, as a very deliberate action is required to overcome it and unscrew the cap completely. Unfortunately this feature is lost on many of these pens over time as this ring loses its elasticity and stays in the wide open position permanently. If one would take a look down the cap, he/she will see this locking ring and it will look like two narrow parts of the ring ellipse creating a narrower way the pen grip section has to pass through. If you look closely at the lip of the grip section you will notice it is finished in a slightly conical shape tapering towards the end. This is done so when the lip meets the inner cap ring, it starts to widen it starting from this small cone tip. And since the section naturally tapers back towards the grip section, this shape is also meant to easily overcome the resistance of this ring when the pen is coming out of the cap.

We believe that many of the later 140s had this feature, including the 400s and even the 120s. We also suspect that this feature was lost on many of these pens when the users would feel the resistance and while fearing the resistance comes from the nib pressing on the inside of the cap would stop rotating the pen and leave the pen with its lip right in-between this safety ring, hence widening the ring to its fully open position. If the pen was left like this for some time, or was regularly left at this position, the ring will permanently widen and lose its original function. Sometimes if the ring is fully widened, is very difficult to even see as it will rest right behind a notch in the cap, and unless its felt or seen with a special tool, it cannot be seen with a naked eye.

This 140 has this feature fully functional as originally intended and clearly visible down the cap (please see the last photo).
The Pelikan 140 is one of the most sought after Pelikan pens, extremely reliable and a perfect writer for all kinds of uses. It features the original 1950s nib with the signature Pelikan nib curvature which gives it a very nice viewing space and flexibility while writing. The nib is smooth, gliding on the paper, very precise. It's suspended over the original ebonite feed, which provides a constant ink-flow and no skipping. More importantly we have replaced the original cracky Plexiglas feed ring even though it was not cracked with our acrylic feed rings. This would also suggest that this pen is from a later production around late 1950s to early 1960s. This collar is a small but crucial part that was originally also made out of ebonite, but was later changed to Plexiglas like material which almost always cracked and rendered many 140 pens useless. The Piston filling is very smooth and easy to use and fill, takes a considerable amount of ink, with the original double seal silicone cork which never leaks and always fills the pen to the top. After the rubber-like material used for corks on the 100N pen in the early 1940s, these 140/120/400s were the first Pelikan pens to use this silicone cork which later became industry standard.

The nib is fully flexible, it will write all sizes up to double broad with a gentle press while writing. Very clean body, beautifully tortoise green transparent, thus the whole body basically represents the ink window with crisp tortoise stripes and adored with its original nib size sticker. The pen is super ergonomic, with classic torpedo shape, it feels nice in the hand, and the section fits perfectly into the fingers, does not tire the hand while writing, it just feels nice as only these old Pelikan pens can feel. Even though the Pelikan 140 is considered a compact pen, it's arguably the perfect pen size, with perfect length and thickness, which is more important, however it is intended to be used posted when it gets its perfect balance. The Pelikan 140 pen is one of the most reliable Pelikan pens ever made, and one of the best constructed pens by Pelikan; they almost never crack, the piston is simple but perfectly functional and reliable, and the nib unit is easy to unscrew completely to clean or to replace; a feature Pelikan uses to this day; even the size of the feed ring and thread step is nearly identical to today. Logo is located on top of the cap.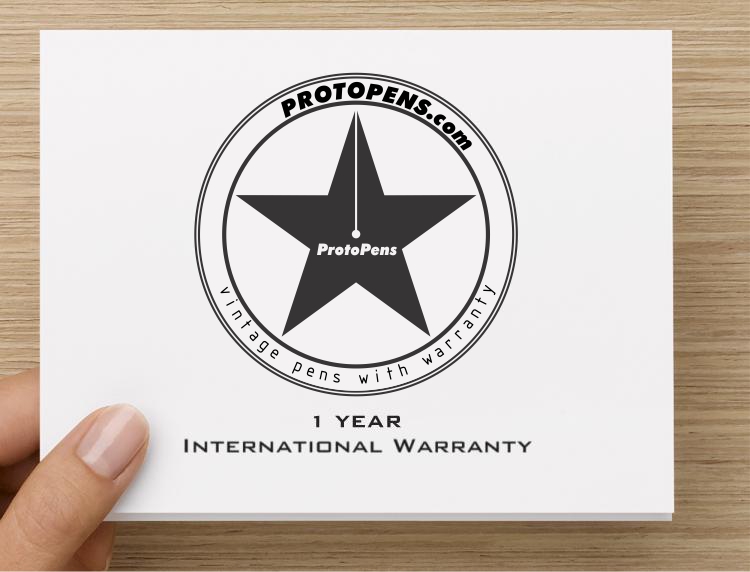 This item is covered by our 1 Year Full International Warranty at no additional cost. The terms of our Warranty are very simple, meant to give you a secure and trouble-free buying experience.
This item is located in Europe and ships Worldwide.
At checkout you can choose between two shipping options:
$8.95 Regular Postal Service, Registered - Limited Tracking 1-4 WEEKS Delivery (Due to the corona crisis, this option is currently available only to several countries)
$34.95 DHL Express International - Accurate Tracking 1-4 DAYS Delivery Worldwide
Learn more about these shipping options.
Prior shipping our items have to pass our highest quality control inspection, are perfectly cleaned and tested by ProtoPens pen staff after which are carefully packed. If the pen does not come in its original manufacturers box, it is packed in a special ProtoPens case.

RETURS: Returns are accepted. You are welcome to ship the item back to us within 7 days after receiving it in the same condition it was delivered to you and we will issue you a full refund! Learn more...
Ask a question about
NOS New Old Stock Never Used Pelikan 140 Tortoise Green Striped with Interlocking Safety Cap Ring & 14K Gold Flexible F Nib Piston Fountain Pen
.
(NOTE: If you don't receive an email from us soon, please check your email spam folder)