Details
Pelikan 400NN Merz & Krell
Manufacturer/Model: Pelikan 400NN Merz & Krell/Made by Merz & Krell (Today Senator)/Germany
Year of production: Between 1973-1978
Filling system: Piston filling
Nib: 14K 585 solid gold, EF "Extra Fine" fully flexible nib, writes EF Extra Fine, F fine, M medium, B broad and BB double broad
Material: Celluloid tortoise green sleeve over transparent plastic resin. Black plastic resin cap; t-knob and section; Thick gold plated metal parts
Length (pen closed): 130mm; Posted 153mm
Condition and information:
Offered here is extremely rare version of the legendary Pelikan 400, i.e. its 4th and last iteration, Model 400NN made by Merz & Krell. The 400 is one of the most beautiful and reliable vintage Pelikan pens, with its in translucent Tortoise Green (or brown) striped body and the perfect from factor. The original Pelikan 400 launched in 1953. The first model had nearly flat cap-top and turning knob. The second is 400N which has slightly more pronounced cap-top and turning knob curvature. The third and last model which was made by Pelikan was the 400NN and it featured more elongated cap-top and turning knob with much more distinct curvature to follow the modern times of the 60s. The "N" nomenclature on each pen model stand for "Neu" meaning "New", therefore in the 400NN model NN stands for "Pelikan 400 New New".

However Pelikan stopped manufacturing the 400NN by 1965. When the need arose again to have their flagship pen in their lineup again, especially for export to the booming Japanese market and economy, Pelikan decided to outsource the production of one of their most popular pens, the 400NN, to a company called Merz & Krell, today (and even then) known as Senator, a company that made pens and nibs from many other companies, including making pens with their own brands. The result of this cooperation was the pen here, the Pelikan 400NN Merz & Krell.
The pen is nearly identical to the original 400NN, with few subtle differences. If compared side by side, one can clearly see that the 400NN M&K comes from a different era, i.e. decade later made with newer machinery and materials. The precision in manufacturing is more precise; the corners are more sharp and pronounced; the build is simplified but not compromised in quality and performance. And some things such as the feed and collar are completely different. I.e. this 400NN M&K shares the same size feed diameter and collar (feed ring) as the Pelikan 120 M&K made by the same company. Even though the feed on this pen is longer as oposed to the P120 M&K, the diameter and collars are the same as on Pelikan 120 M&K, hence one can just swap entire nib units from Pelikan 400NN M&K with Pelikan 120 M&K. The only difference between those two feeds is that the Pelikan 400NN M&K has strong vertical fins as on the original 400NN model, and the P120 M&K has fine horizontal fins/radiators on the feed. They are both made from ebonite, the world's best any-corrosive and inert material to make feeds from. Furthermore, this pen is just 1mm shorter when closed compared to the original Pelikan 400NN, however its is considerably longer (6mm), when posted. The piston on this pen is identical to the Pelikan 120 M&K and unlike the original 400NN which is friction pressed inside the barrel, this one is threaded and can be easily removed to expose and clean the entire barrel from the inside. The entire shaft and cork on this pen are actually one unit and this makes the piston system more reliable and simpler. The materials are closely matched though. This pen also has a celluloid sleeve over a transparent plastic resin, and the section, t-knob and cap seem to be made out of the same black plastic resin as on the original 400NN.

As for the nib, this is also very closely matched to the original 400NN nib. The 400NN M&K nib is just 1mm longer than the original 400NN, 29mm as opposed to 28mm, the shoulder width is the same, but the diameter on the 400NN M&K is one size smaller than the original 400NN, it is 5mm as opposed to 5.5mm. Hence, for all intents and purposes, we like to see this Pelikan 400NN M&K as a new edition and improvement of the Pelikan 400NN, i.e. Pelikan 400NNN
The pen offered here is a rare find, a perfectly preserved piece of history, in near NOS condition, never used. The pen has crisp stripes and colors, the body is nearly transparent, clean and strong black color parts, without a scratch on it. The piston is super smooth and a joy to use and fill, operates as the day it was made and intended to operate.

The nib is a nice surprise too. These nibs were also made by M&K, and as all of their nibs, are nearly a perfection. This nib closely resembles the original 400NN curvature, though it is not that pronounced, but it's nearly fully flexible. It is a EF extra fine and smooth nib, does not scratch, feels super soft and its a marvel to write with. It will flex considerably if pressed while writing, and it will write all thicker lines up to BB and possibly even wider with the correct ink, especially on the down strokes. This is a pen that will produce amazing writing as anyone can hope to achieve with a fountain pen.

This was the Pelikan flagship pen for many years, which even after it was phased out, it resurrected again in the M&K factory, it has to be a special pen to do that, not many phased out pens do. A truly remarkable Pelikan-M&K masterpiece, proven pen in every respect, highest build quality, a pen that performs like a true vintage pen and one that looks stunning, easy to clean and maintain and probably the perfect and most reliable Pelikan & M&K pen ever made.

NOTE: On the last several photos, we show a detailed comparison of Pelikan 400NN and Merz & Krell 400NN.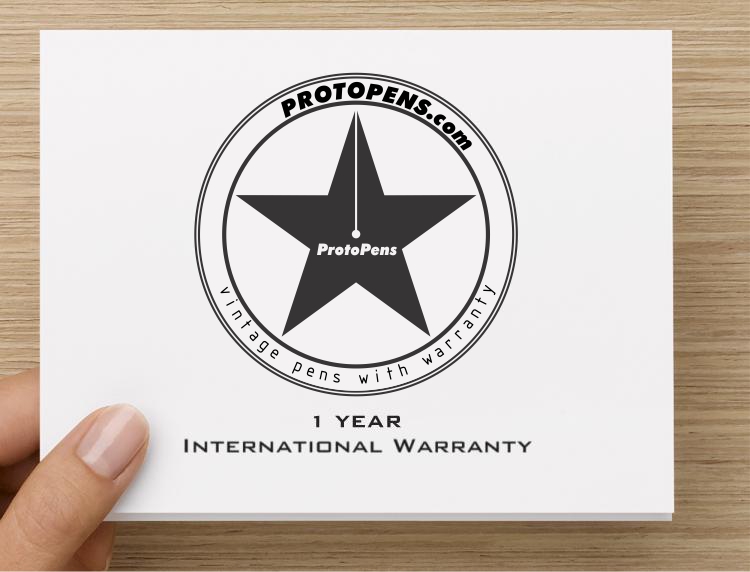 This item is covered by our 1 Year Full International Warranty at no additional cost. The terms of our Warranty are very simple, meant to give you a secure and trouble-free buying experience.
This item is located in Europe and ships Worldwide.
At checkout you can choose between two shipping options:
$8.95 Regular Postal Service, Registered - Limited Tracking 1-4 WEEKS Delivery (Due to the corona crisis, this option is currently available only to several countries)
$34.95 DHL Express International - Accurate Tracking 1-4 DAYS Delivery Worldwide
Learn more about these shipping options.
Prior shipping our items have to pass our highest quality control inspection, are perfectly cleaned and tested by ProtoPens pen staff after which are carefully packed. If the pen does not come in its original manufacturers box, it is packed in a special ProtoPens case.

RETURS: Returns are accepted. You are welcome to ship the item back to us within 7 days after receiving it in the same condition it was delivered to you and we will issue you a full refund! Learn more...
Ask a question about
Super Rare 1973-78 Pelikan 400NN (400) Merz & Krell Flexible EF to BB 14K Nib Tortoise Green Striped Fountain Pen
.
(NOTE: If you don't receive an email from us soon, please check your email spam folder)