Details
MONTBLANC Bohème Doue

Manufacturer/Model: Montblanc Boheme Doue/Germany
Year of production: ~2005
Filling system: Cartridges Only - Small/Short Standard International Size (Set of 6 Included)
Nib: Solid 18K White Gold - Rhodium Plated, M - Medium; Flexible, Will write up to BB
Material: Thick Precious Black Resin & Steel - Platinum Plated Metal Parts; Synthetic Onyx Gemstone - Paramount Cut
Length (pen closed): 110mm, Opened & Posted 135mm

Condition and information:
Offered here is the original Montblanc Boheme Doue with a deep crosshatch checkered pattern, made in approximately 2005. This pen is made in Germany, as opposed to some same pens claiming to be made in France. The Montblanc Boheme pen must be one of the best and most intricately engineered pens on the planet. It was such a radical design, such an extraordinary engineering challenge, that if someone were to make a modern "Safety Pen" it had to be Montblanc. The Boheme pen pays homage to the original Safety pens, which were intended to be filled with and eye dropper, filled from the tip when the nib was retracted. These were some of the most complicated pens with their intricate spiral mechanism and prone to damage due to users closing the caps while the nib was still out/extended, and this is why they never caught up, and were soon replaced by the piston, bladder and other filling systems in the 1930s. Nonetheless, the joy, the mechanical wonder and pleasure of turning the knob and seeing a nib extend outwards, never ceased to amaze people, and the safety pen had always retained its charm that no other pen had, it was both elegant and technical at the same time. Fortunately we have Montblanc to thank for resurrecting it and executing it in such an flawless and unique way. The Boheme pen is basically a modern safety pen which brings the joys from the past with the technology of the present.
Unlike old safety pens, which had open chamber from the front, and the ink would simply pour out if the pen was not closed, or even if the pen was opened pointed downwards, the Boheme pen has a completely enclosed chamber where the nib unit even though can retract and extrude outwards, it does so together with the cartridge inside, and it's fully content as one unit, hence never leaks and its always ready to use. It is hard to believe, but even to this day people still have trouble figuring out how these pens work, (and rightfully so), and damaged many Boheme fountain pens nibs while trying to close the caps on with the nib still extended. Even though there is a safety pin inside the cap that does not allow the cap to be closed when the nib is on, some folks would force them and still managed to damage the feed and/or nib. However these Boheme fountain pens have a very nice, elegant and simple on/off sequence that the users need to follow and enjoy the amazing pleasure this modern safety pen provides:
1. Unscrew the cap
2. Place the cap on the back of the pen as in posting it
3. Start turing the cap clockwise and watch the nib come out
4. Rotate the cap clockwise until the nib clicks into position
5. (Enjoy writing)
6. Unscrew the posted cap counterclockwise until the nib is retracted
7. Continue to unscrew until the cap unscrews from the turning knob and comes off
8. Screw the cap back on the front of the pen

It may look lengthy when described with words, but that is actually how much engineering goes in this pen, which in reality it takes only 4-5 seconds to do all of those 7 steps and awe you and people around you about how this pen works. So one should wonder, how did people manage to damage so many of these pens. It is actually quite simple and easily avoidable - never give the pen to anyone who does not know how to operate it even for a second and always post the cap.

Filling the pen with the cartridge is a joy in itself too. It is the only time the cap can not be posted. It is also possible to replace the cartridge with the pen closed, but its more joyful to do it in this sequence:
1. Extend the nib by turning the knob
2. Push the turning knob to the side
3. Place a cartridge inside - let it slide down in the barrel
4. Turn the knob counterclockwise in order to retract the nib - This action will retract the entire system inside and pop in the cartridge automatically and lock it in place
5. The pen is ready to be used
6. To remove the old cartridge just retract the nib, open the hatch/turning knob and continue to rotate, the cartridge will extrude outside.
This pen has a black Onyx synthetic gemstone/jewel on the tip of the clip. The fountain pen features a nice and rarely seen flexible M medium nib, rarely found on modern Montblancs, and its a joy to write with, it will flex with ease to write lines up to double broad. It is white gold rhodium plated which is even more corrosion resistant than gold. The pen quality is unmatched, made out of thick matte Black Precious Resin and mirror like finish platinum plated cap and turning knob. Solid metal inserts, shafts and mechanisms that contribute to the build quality but also the weight, and make it feel solid and very heavy. Even though shorter the pen feels normal in the hand, perfectly balanced and steady, especially when posted. The pen comes in mint condition, with minimal signs of use, no scratches or any cosmetic or functional issues whatsoever.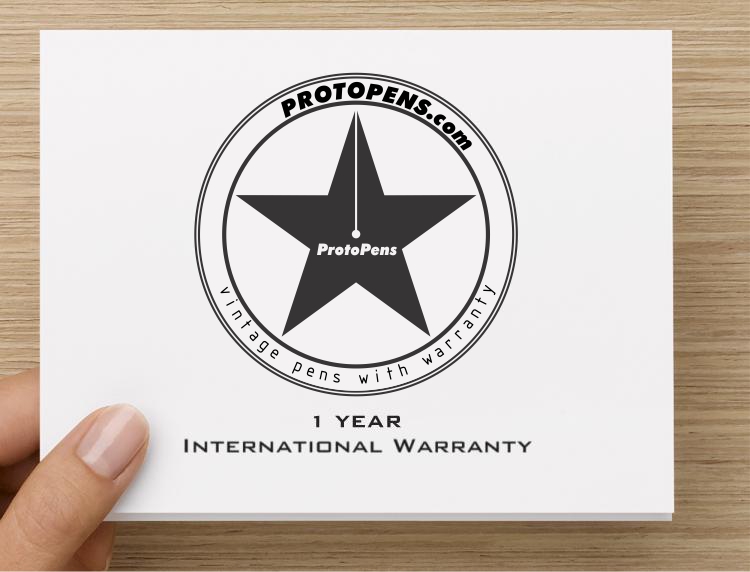 This item is covered by our 1 Year Full International Warranty at no additional cost. The terms of our Warranty are very simple, meant to give you a secure and trouble-free buying experience.
This item is located in Europe and ships Worldwide.
At checkout you can choose between two shipping options:
$6.95 Regular Postal Service, Registered - Limited Tracking 1-4 WEEKS Delivery (Due to the corona crisis, this option is currently available only to several countries)
$29.95 DHL Express International - Accurate Tracking 1-4 DAYS Delivery Worldwide
Learn more about these shipping options.
Prior shipping our items have to pass our highest quality control inspection, are perfectly cleaned and tested by ProtoPens pen staff after which are carefully packed. If the pen does not come in its original manufacturers box, it is packed in a special ProtoPens case.

RETURS: Returns are accepted. You are welcome to ship the item back to us within 7 days after receiving it in the same condition it was delivered to you and we will issue you a full refund! Learn more...
Ask a question about
Made in Germany Montblanc Boheme/Bohème Doue Black Checkered Chequer Pattern Onyx Gemstone & Platinum 18K White Gold Flex Nib Safety Fountain Pen
.
(NOTE: If you don't receive an email from us soon, please check your email spam folder)
This item is bit over of what you would like to pay? No problem, we got you covered! Here you can send us your Best Offer. We will review your Offer and if we accept it, we'll email you a Discount Coupon which you can use at checkout. In case you don't receive email from us within 24h, please check your email's spam folder. We may also send you email with our Counter Offer. Please note that if the item sells while we review your offer, the item will no longer be available for sale unless there are more than 1 of same item. Thank you and we are looking forward to your offer!
Send your best offer for
Made in Germany Montblanc Boheme/Bohème Doue Black Checkered Chequer Pattern Onyx Gemstone & Platinum 18K White Gold Flex Nib Safety Fountain Pen
.
(NOTE: If you don't receive an email from us soon, please check your email spam folder)