Details
White Feather 71-2

Manufacturer/Model: White Feather/71-2/Dairen China
Year of production: Early 1970s
Filling system: Capillary Filling Pen (Parker 61 like)
Nib: Solid 14K Gold "EF" extra fine size
Material: Body: Olive/Army Teal Green plastic; Cap metal thick gold plated, crosshatch pattern
Length (pen closed): 132mm, posted at 140mm

Condition and information:
We are very proud to offer this exceptional pen from a now long lost company, the White Feather pen company from Dailan China. The company was probably the arch-nemesis of HERO, which whom they constantly competed. This company made some amazing pens, and in an amazing way. The pen here was one of their last high-end models, as they have closed the factory in the 90s. The 71 model was launched in the late 1960s, and had several models under this designation. This is the last third model with a solid 14K gold semi-hooded nib. The pen is a simple yet elegant capillary action filling pen. The way it works is with a special hard plastic insert (a cartridge of a sort), which is finely crosshatch cut/sliced, so when the pen is dipped in the bottle of ink, the ink will start climbing up the feed all the way into the cartridge via the capillary force. This is very similar to the Parker 61 capillary filling pen, however instead of a perforated rolled roll which held the ink, this one is finely grooved cylinder instead. Imagine it simply as if the feed was 10m long, and if all the ink was basically held within the feed, that is the principle. In fact, Parker and actually many other pen makers experimented with this type of insert, but went with similar designs as opposed to this one. The only problem with this one is that it does not have a barrier around the capillary inset, so when the ink flows over it and in it, the only thing keeping the ink inside, is the barrel. Hence if one were to open the barrel with this cartridge/insert full of ink, it will make a mess to remember. However this is the Chinese approach, and rightfully so, as along as it works and the user understands how to operate it, it is fine. Many companies attempted some kind of "clean" filling system, it was the Holy Grail of the 60s as to how to make a pen that filled itself and was as least messy as it possibly could.

It is amazing though the level of quality of work and craftsmanship on this pen, to match all the western pen manufactures. The cap is fully thick gold plated, and with a nice crosshatch pattern on it, which in fact represents and resembles the capillary cartridge inside. One thing that shows how far they have taken this pen is the spring loaded clip, which one will expect to see on the best of the best pens. So instead of a simple bending principle clip, this one is spring suspended from the inside of the cap and can extend quite far to be accepted in any thickness pocket fabric or a notebook cover. It even has an insert arrow on the front section similar to the Parker 61, which had a completely different reason for being there, i.e. for the people to find the nib position, as opposed to on this pen, simply from aesthetic reasons. As per the instructions in the pen (see last photo), White feather claims the pen should be submerged nib down in the bottle of ink, approximately 1.5cm, and held like that for 10-15 seconds in order for it to become fully full. We have tested this and it seems it needs bit longer, about 25-30 seconds, but the nice part is that it fills like a charm and it even holds decent amount of ink, not as much as a piston filler, but similar to a converter ink volume. Depending on the viscosity of the ink, some inks will fill it better than others. There is also this peculiar hole on the back of the barrel, which is made into a blind barrel-top/cap, behind which there is some diaphragm inside the barrel. This hole is made so when the ink starts rising inside the pen, the air has a place to escape from. However we would not recommend turning the pen upside down when its full, as if shaken some ink can escape out. This is one of those pens that works like a charm, like a personal machine that only the owner knows how to operate it, its not a pen that anyone can use. The pen is super super easy to clean. The feed and nib come off easily, either by pulling them out or pushing them in the section, they will simply fall off, very easy and very convenient. The insert just comes off, no friction and no threading, the barrel is the one holding the capillary insert when its screwed all the way on the section, hence super easy to clean, as well as the barrel over it.

The nib is solid 14K gold, with 3 clear faces, simply stamped out from a roll of gold, and it is a very precise EF extra fine size. It's a wet nib, as ink comes of easily from the pen. We believe one can adjust the blind cap on top of the barrel and experiment with the ink flow. The pen comes in a New NOS never used condition, in its original wooden presentation box and instructions slip, remarkable condition, ready to be used and enjoyed. All in all, an amazing pen with amazing filling system and a piece of history.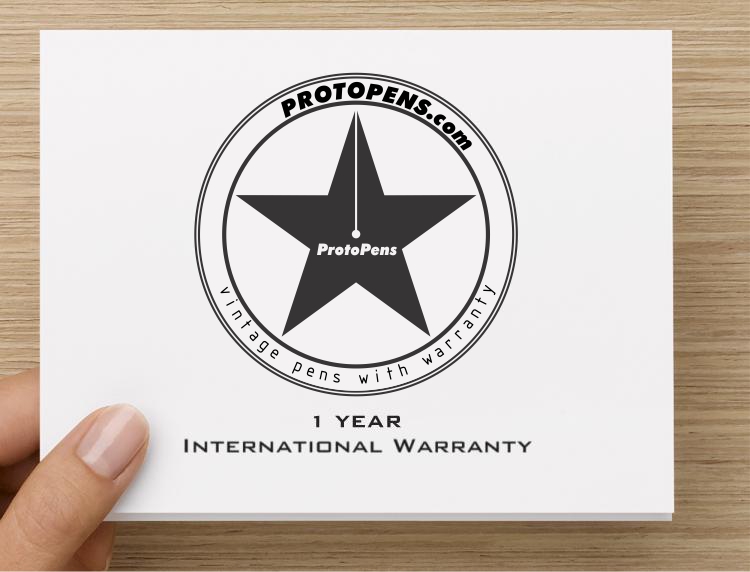 This item is covered by our 1 Year Full International Warranty at no additional cost. The terms of our Warranty are very simple, meant to give you a secure and trouble-free buying experience.
This item is located in Europe and ships Worldwide.
At checkout you can choose between two shipping options:
$8.95 Regular Postal Service, Priority & Registered Airmail - Limited Tracking 1-4 WEEKS Delivery
$38.95 DHL Express International - Accurate Tracking 1-4 DAYS Delivery Worldwide
Learn more about these shipping options.
Prior shipping our items have to pass our highest quality control inspection, are perfectly cleaned and tested by ProtoPens pen staff after which are carefully packed. If the pen does not come in its original manufacturers box, it is packed in a special ProtoPens case.

RETURS: Returns are accepted. You are welcome to ship the item back to us within 7 days after receiving it in the same condition it was delivered to you and we will issue you a full refund! Learn more...
Ask a question about
Rare & Unique 1970s WHITE FEATHER 71-2 Teal Olive/Army Green & Crosshatch Gold Cap Capillary Filling Cartridge EF 14K Gold Nib Fountain Pen Made in China
.
(NOTE: If you don't receive an email from us soon, please check your email spam folder)